James F. Bono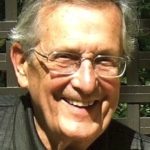 James F. Bono, 88, of Milton, passed away at home on February 23, 2018.
He is survived by his wife of 31 years, Grace (Kiley) Flynn-Bono, his son James F. Bono, Jr., and his wife Laurie, step son John Flynn and his wife Kathy, step daughter Paula Char and her husband Daniel, step daughter Deborah, his grandchildren: Ryan Flynn, Deanna Bono, Michael Char, Steven Char, Christine Char, Michael Williams, and his great grandchildren: Emma and Grace Flynn. He is also survived by many nieces and nephews. Jim was predeceased by his first wife, Josephine (Arcana) Bono. He lived with his parents, the late Thomas and Margaret Bono in Dorchester, MA and was raised with his sister Margaret Oden of Hingham, Thomas Bono of Easton, and the late William Bono of Dorchester.
Jim served in the Navy in World War II and was stationed on a ship in Japan. He received an honorable discharge on 7/16/1948. He went to Northeastern University on the GI bill and received his Associates degree in drafting. He worked for several firms as a draftsman and retired from Sage Laboratories in 2001 after 41 years as a chief draftsman. Jim was an active member of several drafting groups during his career. He was a member of the Milton Hoosic Club and the Quincy Neighborhood Club. He was a board member of the Milton Friends of the Council on Aging and attended monthly luncheons of the "Originally From Dorchester" club up until recently.
A Mass of Christian Burial will be celebrated in Saint Elizabeth Church, 350 Reedsdale Raod, Milton, Monday, February 26 at 10:00am. Visiting hours at Dolan Funeral Home, 460 Granite Avenue, EAST MILTON SQUARE, Sunday, 4:00-8:00PM. Interment Milton Cemetery.
Donations in Jim's memory may be sent to The Milton Council on Aging, 10 Walnut Street, Milton, MA 02186.