Burton Samuel Greenlaw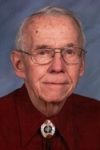 Burton Samuel Greenlaw of Milton 92 died at home on February 13, 2018.   He was the loving husband of the late Priscilla A. (Allen) Greenlaw.  He is survived by his daughter Linda Hamelin and her husband David of Middleboro and his son David Greenlaw of RI.  He is the grandfather of Christopher and Timothy Hamelin of Taunton and Carrie Hamelin of Middleboro. He is the beloved son of the late Leonard and Florence (Fossett) Greenlaw.
Burton grew up in Somerville and is a graduate of Somerville High School. He served in the Merchant Marine during World War II and became a radio officer for City Service Oil transporting oil in a tanker traveling all over the world. He retired after 25 years to spend time with his family.  He became self-employed and worked various jobs before becoming a real estate broker working in the Quincy area. He was an active member of the Quincy & South Shore Board of Realtors.
Burton was an active member of Parkway United Methodist Church for over 50 years. He served on many boards and committees as wells as distributing tapes of the Sunday services to shut-ins.  He sang in the church choir and participated as a lay leader/speaker during worship service.  He also spent time on weekends with other members of the church participating in Saturday and Sundays Breads program in Boston where he served dinners to the homeless, He was a member of the United Methodist Mens and was an Honorary member of the United Methodist Womens.
He, along with his wife were key organizers in the relocation of the Milton Food Pantry to Parkway Church.  He devoted his time to picking up, organizing and distributing food items.  You could always find him every Saturday morning at the pantry.
He was involved in the community by being a member of MRE(Milton Resident for Elderly) board of directors for over 4 decades as well as being an active member of the Rabboni Masonic Lodge for over 60 years.
Besides his service to others, Burton enjoyed square dancing with his wife in the Spares for Squares group where he was president for 2 years as well as spending some of his summers at his family cottage in Round Pond Maine.
A Funeral Service will be celebrated in the Parkway United Methodist Church, 158 Blue Hills Parkway, Milton Monday, February 19 at 11:00 AM.  Visiting Hours at the Dolan and Chapman Funeral Home, 5 Canton Ave., MILTON VILLAGE, Sunday February 18 from 2-5 PM with a Masonic Service at 3:00 PM. Interment Private.
In lieu of flowers, donations in Burton's memory may be sent to The Milton Community Food Pantry, c/o Parkway Methodist Church, 158 Blue Hills Parkway, Milton, MA 02186