Francis L. Tierney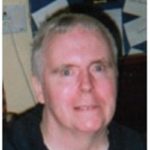 Francis L. Tierney,  formerly of Dorchester, in Abington, died Feb. 10,2017.
Frank was born February 22, 1937, in Winthrop , MA.  Frank was educated in the Boston Public School System.  He was a Dorchester resident for the majority of his life prior to living at Marina Bay Skilled Nursing Facility and finally at Roland House in Abington where he has resided for the last ten years.
Frank was a member of St. Ambrose Church, Dorchester.  He loved reading, often going to the library and checking out three to four bags of books at a time. He was a big fan of Thomas the Train. He loved animals and playing baseball in his youth.  Frank was also well known for his politeness.
Frank worked at Community Work Service in the mailroom. He also later worked as an  assembler at firm in Braintree.
Frank was the beloved son of the late Frank L. Tierney and Ruth M. (Queenan) Tierney. Brother of the late Nancy Tierney and Larry Tierney.  Dear friend of LaRhonda Summons of Dorchester and  her children, Alex Chris and Brittany who knew him  as "Uncle Frank",  all of Dorchester. Long time friend William Appleyard of Malden. His "Doctor" friend Michael Roberts of Hanover.  His  numerous cousins  and the staff at Roland House 1, Road to Responsibility.
Prayer Service in the Dolan & Chapman Funeral Home, 5 Canton Ave., MILTON VILLAGE , Tuesday, February 20 at 11 o'clock. Visitation  10 – 11 am.  Interment Blue Hill Cemetery, Braintree.
If desired contributions in Frank's memory may be sent to Alzheimer's Association, 309 Waverley Oaks Road, Waltham, MA 02452 .