Stephen Arthur Dowling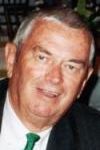 Stephen A. Dowling, of Milton and Vero Beach, FL, passed away on Saturday January 7, 2018.
Born in Waterbury CT, he moved to Brighton area. Steve attended and graduated from Boston College, Class of 1954. He then enlisted in the US Navy as a naval officer, serving in Guam. Steve worked for the Boston Globe for a time then moved to a noteworthy career in the investment business with Solomon Brothers and most recently with Morgan Stanley, with a careful caring approach that gained him countless friends.
Steve is survived by his beloved wife M. Patricia (Leary) Dowling. Father of  Donald Dowling of Rutland, VT. Brother of Mary Jane Sullivan of Belmont and the late Richard F. Dowling. Also survived by several nieces and nephews.
Steve and Patsy were long time, loyal members of Wollaston Golf Club and devoted parishioners of St. Elizabeth's Church in Milton
They were quiet but generous philanthropists gifting many organizations in the Boston area most notably Ursuline Academy, Boston College, The Museum of Fine Arts and St. Elizabeth's Church.
A Mass of Christian Burial will be celebrated Wednesday January 10th, in St. Elizabeth Church at 10 AM. Relatives and friends invited. Visiting hours from the Dolan Funeral Home, 460 Granite Ave. EAST MILTON SQUARE, Tuesday 3 – 7 PM. Interment Milton Cemetery.
In lieu of flowers donations in Steve's memory may be made to the Francis Ouimet Scholarship Fund, 300 Arnold Palmer Boulevard, Norton, MA 02766.