Robert G. FitzGerald Jr.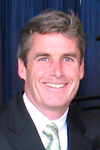 Robert G. FitzGerald, Jr., of Milton & Falmouth, December 30, 2017.
Beloved husband of Carolyn (Kealey) FitzGerald of Milton. Loving father of Alexandra FitzGerald and Brianne FitzGerald, also of Milton. Cherished son of Marjorie F. (Gill) FitzGerald and the late Robert G. FitzGerald, Sr. of Milton. Bob is also survived by his five siblings, Jeanne FitzGerald of Canton, Maureen Pacella of Dedham, Patricia Deware of Needham, Richard FitzGerald of Milton, and John FitzGerald of Quincy, and a host of devoted nieces and nephews.
Visiting hours at the Dolan Funeral Home, 460 Granite Avenue, Milton on Wednesday, January 3rd from 4 p.m. to 7 p.m. A Mass of Christian Burial in celebration of Bob's life and love, will be held on Saturday, January 6th at Saint Agatha Church, Milton at 10:00 a.m. Private interment.
In lieu of flowers, memorial donations in Bob's honor may be made to the Appendix Cancer Pseudomyxoma Peritonei Research Foundation (acpmp.org/donate).