Michael A. Gerace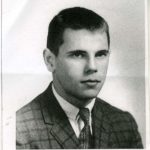 Michael A. Gerace, passed away on December 29, 2017, in Brockton.
Son of the late Theodore Geraci  and Dorothy (Hemeon)  Geraci of Milton. Beloved brother of Elena Geraci Bray, of  Jericho, Vermont.  Loving  uncle of Kevin M. Bray of Morrisville  Vermont, Brian D. Bray of Plymouth, MA, Regina M. Lawrence of Brockton, MA and Aaron Geraci of Westport, MA.
Michael graduated from Milton High Class of 1964.  He was an avid high school baseball and football player.  Attended Iowa Wesleyan College and Wagner College, Staten Island, New York.  He was a  noted historian and  literary composer.  Michael  was  a postal worker for 40 years at the Brockton Post Office.
A Graveside Service will be held Monday February 26, 2018 at 1:00PM in Milton Cemetery.