Mavis Melhado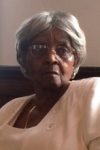 Mavis Melhado, of Milton, January 2, 2018.
Beloved wife of the late Gerald Melhado and the late Vincent Oliver.  Loving mother of Andrew Melhado of Milton. Beloved grandmother of Ryan Melhado, Justin Melhado and Charnae Reid and great-grandmother of Adonis and Hanson Reid.  Daughter of the late Zephaniah and Itahalin (Oliver) Leachman.  Mavis was the eldest of ten children.  She is survived by her brothers Gauntlet and Leslie Leachman and her sisters Pearly Murray, Sarah Young and Albertine James. She leaves behind to mourn her loss, her "Aunty Momma" and several cousins in Jamaica, Canada, England and other parts of the world.
Mavis was born in Kentish District, St. Catherine Jamaica on October 25, 1923.  She moved to England were she lived with her fist husband Vincent Oliver until he passed away.  Returning to Jamaica she resided in the District of Glade, St. Catherine.  Mavis had her own business as a shop keeper, house wife, aunt and care taker for her community and family.  She adopted Pamela Ferguson (Vinny) and Jean Ballantine and raised them until her departure to the USA. While in the US, Mavis worked as a home aide to Ms. McMahon and later at Flower Fifth Memorial Hospital.
A visitation will be held at the Dolan Funeral Home, 1140 Washington Street, DORCHESTER LOWER MILLS, Sunday, January 7 from 1:00-3:30 PM.  A Funeral Service will follow at 3:30 PM.  Family and friends are invited.