Festus Joyce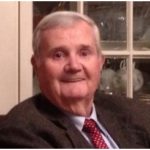 Festus Joyce, of Milton, January 27, 2018.
Festus Joyce was a man amongst men who inspired those around him to be the best version of themselves. Husband, father, grandfather, brother, friend, teacher, veteran, and the rock on which all who knew him leaned, "Fess" embraced each of his roles equally, enriching the lives of all who had the privilege of knowing him. To his siblings, he was the little brother who was always just there for them. Fess' friends were shown the meaning of fierce loyalty and the power of "all-in" support. For those lucky to be his student, their lives might just have been changed forever. His children, grandchildren, and great grandchildren were all blessed to know his unconditional love and understand how his high expectations inspired you to follow your dreams.
Fess received his Masters in Education Degree from Fitchburg University and committed himself to the teaching profession impacting the lives of countless students at Blue Hills Regional Technical School. He was a beloved teacher and remained involved with the school post retirement as an active member of the School Committee. Fess was passionate about the Blue Hills' educational mission and genuinely enjoyed working alongside his colleagues to bring it to fruition. A welcomed benefit for Fess in remaining on the School Committee was that it gave him the ability to continue working together with his daughter Marybeth Joyce who is Director of Admissions. Fess enjoyed working with Marybeth and would not let something like retirement get in his way of that. He also took pride in presenting his grandson Ryan with his diploma upon graduation (and let everyone around him know it). Fess treated the Blue Hills community as an extension of his family. Every grandchild had the fun experience of attending football and hockey games to cheer on his students.
He was a proud veteran, life-long member of the Bricklayers' Union, seeker of justice, disciplined teacher committed to his craft, a lover of all-things Blue Hills, a devoted friend, and deeply aware of how fortunate he was to find a wife who shared his values. Fess was beloved for his unwavering loyalty, very firm hand-shake, ability to make you feel like the most important person in the world whenever he spoke to you, relentless optimism, and was also known to be graciously stubborn on occasion.
Fess 60-year marriage to Rita reflected his deep commitment to "the love of his life" and his family. Rita was his true soul-mate and they navigated through life together as one. Their strong love and commitment gave rise to the phrase "Fess'n Rita" as they were inseparable. Their deep connection was endearing as Fess loved Rita in such a way that everyone in the room with them could feel its warm glow. His love for his children knew no boundaries as Danny, Marybeth, & Susan were most dear to him. He spoke of their milestones and achievements with un-matched pride and contagious excitement. To Fess, Danny was always "My Boy", Mary was "Moodileri", and Susan was "SuSu."
For over 20 years, Fess and Rita enjoyed hosting family & friends down the Cape at their summer home in Sandwich. Together they supplied some of the best memories. Days were spent at Snake Pond, evenings were focused on reminiscing about the day's events at Seafood Sam's, and sunsets enjoying over a casual walk along the Canal. They also loved summer evenings walking around Castle Island. Fess cemented this past-time as a firmly rooted Joyce Family tradition. All of his grandchildren have a special place in their heart remembering all the times they informed their parents " Hey, we are going with Pup to get dogs & burgers at Sully's."  Fess had a special relationship with each one of his grandchildren who all adored their "Pup."
Fess is survived by his wife, Rita (Taylor) Joyce; his three children, Dan Festus Joyce and wife Janet Joyce of Duxbury, Marybeth Joyce of Milton, and Susan Galvin of Milton.; and grandchildren, Danny F. Joyce II and his wife Anisa, Doug Joyce and his wife Jaime, Ryan Joyce, John Galvin, & Mollie Galvin; and great grandchildren Danny F. III ("D.Festus" according to Fess), Kellan, Pierce, and Lily Joyce. He was son of Patrick & Rose Joyce. He was predeceased by his siblings Joseph, Helen Joyce, John, Marie Crosby, Eugene, Thomas, Catherine Coppinger, Patricia Mehegan and Roseanne Rayel. He is survived by his brother-in-law and long term friend Michael Rayel. Fess was the youngest boy of 10 with over 70 nieces & nephews.
The family expresses gratitude to the physicians and nurses at Brigham & Women's Hospital in Boston for their compassion & caregiving with Fess.
A Mass of Christian Burial will be celebrated in Saint Agatha Church, Adams Street at Brook Road, Milton, Friday February 2 at 10:00 am. Relatives and friends are welcome. Visiting hours at Dolan Funeral Home, 460 Granite Avenue, EAST MILTON SQUARE, Thursday 4-8 PM. Interment Milton Cemetery.
If preferred, in lieu of flowers donations can be sent to the Blue Hills Regional Technical School Renovation Enhancement Fund in Festus' name.