Barbara Ann (Taylor) Kelly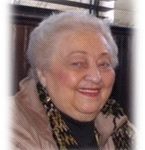 Barbara Ann (Taylor) Kelly of Milton, formerly  of Braintree, passed away on Sunday, January 28, 2018 at the age of 84.
Barbara was a graduate of the Braintree schools, she enjoyed singing, playing cards, and arranging social activities for family, friends and co-workers. Barbara was a long time employee of Guaranty Fund Management Services in Boston, MA.
Barbara was the devoted mother of Gerald P. Kelly, Jr. and his wife Karen of Milton, Nancy Kelly of Hingham and Janice Kelly of Hull. Loving sister of the late Bette Thibeault, Robert Taylor and Frederick Taylor. Cherished grandmother of 6 grandchildren, Gerald P Kelly III and his wife Katie of Marshfield, Colleen Kelly of Boston, Thomas Kelly of Milton, Devin Kelly of Erie, PA, Patrick Roux of Hingham, Thomas Chase of Hull and 1 great granddaughter, Rose Kelly
A Mass of Christian Burial will be celebrated in St Agatha 's Church, Milton, Thursday, February 1, at 10:30 AM. Visiting Hours in the Dolan Funeral Home, 460 Granite Ave. EAST MILTON SQUARE, Wednesday, January 31. 4 – 8 PM.
Interment in Blue Hill Cemetery, Braintree.  In lieu of flowers memorial donations may be made in Barbara's name to a charity of your choosing.