Yolande Cange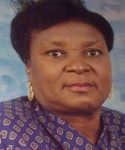 Yolande Cange,  of  Hyde Park died on December 6, 2017.  She is the beloved wife of the late Simon Cange.  Loving mother of David Cange of Norwood, Serge Cange of Norwood, Marie Lorole of Hyde Park, Sulfise Cange of Haiti, Nadia Cange of Brockton and Marie Yolene Cange of Montreal, Canada.  Grandmother of Kemissa Georges, Betane Chery, Magdaline Chery, Chantal Chery, Carline Chery, Victoria Lorole, William Lorole, Ruben's Cange, Christine Jean, Richcove Jean, Bianca Chery, Vanessa Berthol, Jimmy Berthol, Josue Lorole, Woodly Lorole, Dyan-Al Gumar Georges, Jamill Georges, Jessica Georges, Jonathan Jean-Baptist, Jordan Jean-Baptist, Steven Jean-Baptist, Gabriel Noel,Regine Lavache, Vitaro Lavache, Dora Ducass and Fabinne Lorele.
Yolande was born and raised in Haiti.  After traveling to the United States to be close to her family she quickly became a loving  grandmother  and  caregiver to her many grandchildren.  She was a very spiritual person with an affectionate personality.  Yolande enjoyed cooking, gardening and was a true people person.  Most of all Yolande loved her family who meant the world to her.  She will be forever loved and missed by all who had known her.
Family and friends a invited to attend the viewing in the Dolan Funeral Home,  5 Canton Avenue, Milton Village on Friday December 22, 2017 from 4-8PM.  A funeral service will be held on Saturday December 23, 2017 in the Nouvelle Jerusalem Church , 871 North  Main Street, Randolph at 11:00am.  .  Interment  in Fairview Cemetery, Hyde Park.