Marguerite F. (Honnors) Howe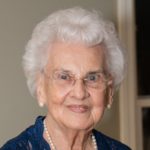 Marguerite F. (Honnors) Howe died at 93 years old of natural causes resulting from heart disease on November 22, 2017 at her residence is Walpole, MA.
Her loving husband of 65 years, Douglas B. Howe Jr. predeceased her by 8 yrs.  She leaves her three daughters, Linda J. Perrin, Marcia H. DeWolfe, and Pamela H. Sanborn, their husbands, 9 grandchildren, 13 great grandchildren, along with several step grandchildren and step great grandchildren.
A Memorial Service will be held at the First Parish Church of Weston, MA on Dec 16th, 2017 at 11 am.  In lieu of flowers a donation to Good Shepherd Community Care, 90 Wells Ave, Newton, MA 02459, would be appreciated.
Marguerite was born March 28, 1924 in Somerville, MA.  She grew up is Somerville and moved to Weston, MA after marrying Douglas B. Howe Jr.  Together they raised their three daughters is Weston.  There Marguerite was active in the Girls Scouts, often serving as a Brownie or Girl Scout Leader; taught Sunday school at the First Parish Church of Weston; and worked many years as a library assistant and audio visual specialist at Weston Junior High.  In her spare time she enjoyed reading, sewing, knitting, crocheting, crafting, and gardening.  She was a talented seamstress, sewing a variety of items from drapes and prom dresses to Ginny doll clothes for daughters' dolls.  Marguerite was also a fabulous cook who usually had a delicious dessert baking in the oven along with the main meal.  In addition Marguerite thoroughly enjoyed attending musical shows and her grandchildren's sports events.
Grammy and Pa, as she and her husband were fondly called by their grandchildren, retired to Waterford, VT where they enjoyed country living with their animals and their gardens.   She continued her hobbies, adding spinning and weaving to her repertoire.  For a period of time 'Grammy and Pa' raised sheep and enjoyed all the challenges and pleasures of sheep farming.  She cherished time spent with her children and grandchildren, especially when they visited her at School House Farm in VT.  To her grandchildren, Vermont was Grammy and Pa's house.  Grammy, Marguerite, was the happiest during these visits with her children, grandchildren, and great grandchildren.  As a mother and grandmother she will be greatly missed.