Fr. Aubrey Cedric McNeil OFM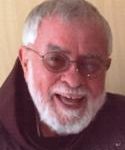 Fr. Aubrey McNeil, OFM, 72, a professed Franciscan friar for 36 years and a priest for 32, died at Beth Israel Deaconess Hospital in Plymouth, Massachusetts Tuesday December 5, 2017.
A viewing is scheduled for December 11 from 9 to 10:15 a.m. at St. Anthony Shrine, 100 Arch St., Boston.  A Mass of the Resurrection will be celebrated by Provincial Minister Fr. Kevin Mullen, OFM, at 10:30 at the Shrine.  A Memorial Mass will be held on Dec. 15 at St. Mary of the Angels Church in Anderson, S.C., where Fr. McNeil had been stationed for the last 12 years.
Early Years
Fr. McNeil was born on Feb. 16, 1945 in Glace Bay, Nova Scotia, Canada, to Donald and Monica (nee McInnis) McNeil and baptized on March 11, 1945 at  St. Joseph's Church in Reserve, N.S.  The family moved to Roxbury, Mass., where Fr. McNeil attended Our Lady of Perpetual Help grammar school.  He then attended St. Joseph Seminary in Callicoon, N.Y., for high school and the first two years of college.  He earned a B.A. in English from Stonehill College in North Easton, Mass., in 1967.
After spending some years as a lay missionary in Africa and a registered nurse, Fr. McNeil was received into the Franciscan Order on June 15, 1980 at St. Francis Friary, Brookline, Mass., and, after earning a master of divinity degree from the Washington Theological Union, Fr. McNeil professed his solemn vows on June 15, 1985 at St. Francis of Assisi Church in New York City. He was ordained on Oct. 19, 1985 at St. Camillus Church in Silver Spring, Md.
Ministry
After his ordination, Fr. McNeil was appointed co-pastor at St. Anthony of Padua Church in Camden, N.J., where he served from 1985 until 1989.  The following year he was assigned as pre-novitiate formation director in Mbarara, Uganda. He returned to the U.S. in 1990, serving as parochial vicar of St. Francis of Assisi Parish in New York City until 2002.
For the next 13 years, Fr. McNeil was stationed at Holy Cross Parish in the Bronx, N.Y., first as associate formation director and parochial vicar and then as pastor. In 2005, Fr. McNeil was assigned to St. Mary of the Angels Parish in Anderson, where he was served as pastor for 12 years.  He also served as spiritual assistant to Our Lady of Good Counsel Secular Franciscan Fraternity in Greenville, S.C., as well as sacramental minister at St. Joseph Church in Anderson.
He is survived by his mother along with his brother, Daniel McNeil, and sister, Donna Wood, all of whom live in Plymouth, Mass.
Memorial donations may be sent to Franciscan Friars – Holy Name Province, 144 West 32nd Street, New York, NY 10001-3202.