Colonel Charles E. Colson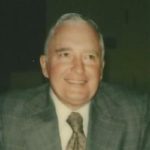 Colonel Charles E. "Jack" Colson of Milton and Duxbury, December 17, age 101, Colonel Colson was predeceased in 2004 by his cherished wife of 61 years, Frances (Quinn).  He was born in Chelsea MA to the late Charles Colson and Cecilia (Nelson)Colson.  He is survived by his beloved daughters, Roberta Smith, and her husband, Bruce, of Berlin MA, Rosemary Colson of Hopkinton MA, his grandson Doug Smith and his wife Melinda of Hillsborough, NJ, his granddaughter Kathleen O'Brien of Franklin MA, his cherished great grandchildren Brett and MacKenzie Smith and their mother Jennifer and Tyler and Dylan O'Brien and their father Sean.
Mr. Colson excelled in school, graduating from Chelsea HS with High Honors, earning a scholarship to Harvard College, from which he graduated, Cum Laude, in 1939. He studied and became fluent in multiple languages during high school and college.  His mastery of German and French was particularly helpful when he entered military service and served as a Specialist with the mechanized and armored units during WWII in North Africa and Italy.  Following the war, he attended law school in the evening while working full time during the day.  He passed the Bar Exam with honors less than two years after starting law school.  He served with the legal department of Liberty Mutual for 20 years, defending policy holders in a variety of cases.  He went on to practice law privately for 30 years, representing plaintiffs and defendants in the state and federal courts and at the Industrial Accident Board, retiring at the age of 77.
Colonel Colson also remained active with the Army Reserves until he was 57.  In the USAR,  he served as an intelligence officer on the General's staff of the 94th Infantry Division and then instructor and Commandant of the USAR School.  He continued his education, completing all courses at the Army's Intelligence School, graduating from the Command and General Staff College at Leavenworth, Kansas, and from the Industrial War College.
In Milton, Mr. Colson served as a town meeting member for many years.  He was a member of the Harvard Club of Boston, Boston Bar Association, American Trial Lawyers, American Judicature Society.  He was a Notary Public and a licensed and bonded real estate broker.
In his 80's, Mr. Colson became an avid computer user, teaching himself how to program his PC and amazing all with his prowess and speedy ability to master this brand new area of interest.  Mr. Colson's curiosity and desire to learn were constant throughout his life.  During his free time, Mr. Colson enjoyed swimming, particularly enjoying long swims and long walks at Powder Point Beach, Duxbury MA.  He and his dear wife also enjoyed many years of ballroom dancing together.
A Mass of Christian Burial will be celebrated at St. Elizabeth's Church, 350 Reedsdale Rd., MILTON, Thursday,  Dec. 21, at 10 'clock.  Interment St. Joseph Cemetery, West Roxbury,  MA at 1:15 pm. There are no visiting hours.   Arrangements under the direction of the Dolan Funeral Home Milton.  In lieu of flowers, contributions in his memory may be made to www.Advocates. org, 1881 Worcester Rd., Framingham, MA 01701.  Advocates, based in Framingham MA was led for more than 30 years by Colonel Colson's late nephew.