Kenneth Tyrone Budd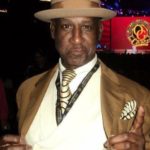 He was born on February 3, 1954 to the late Audrey and Napoleon Budd. He lived all of his life in the Dorchester, Roxbury and South End parts of Boston.
Kenny graduated from English High School in 1971. For many years, Kenny worked for the Boston Gas Company before working as a Service Representative for Tufts Health Plan.
Kenny's pride and joy, outside of his family, was his "Ponderosa Estate" on Maple Street. It has housed 4 generations of the Budd Family over the last 33 years. He was always willing to give a tour of the house, which was accompanied with the stories of all the blood, sweat, and tears that went into it. He transformed the abandoned building into a safe haven for his family, even when people told him it would be an impossible feat.
Kenny was a determined man. When he had his mind set on something, he went for it. He is well known for always having a camera in his hand, and may have even invented the 'selfie'. He was known as the "Gator Man" for his endeavors in selling exotic skinned shoes. Although it didn't last as long, Kenny also tried his hand in the coffee business selling Organo Gold.
Kenny was a loving and devoted family man. On top of his 2 biological daughters, Karyssa and Ronee, Kenny played an active role in raising many nieces and nephews. Eric Smith was the son he never had. The late Tiffany Lomax was his "first daughter", and Stephanie Milton was, as he called her, "his spoiled little rich" daughter. Olivia Gomes, his first biological grand-daughter was honored to share her Papa with James Green and Heaven Lowery. Whether by blood or a faint encounter, Kenny was "Uncle Budd", "Pops", or "Papa" to many, many more.
He was also "dad" to a host of cats and dogs over the years.
Kenny was a doting husband. Married for 33 years, and best friend for over 40, Kenny and Roberta Budd were truly soul mates. From coworkers, to friends, to homeowners, to parents, their relationship was one that many admired. Through thick and thin, their love for one another never wavered.
Bro. Kenny Budd joined Grace Church of All Nations August 2012, and attended services faithfully with his granddaughter Olivia. He was a member of the Men's ministry and became the church photographer which is one of his passions in life.
Kenneth Tyrone Budd, 63, of Dorchester, passed away at home on Wednesday, November 1, 2017.
Kenneth Budd is preceded in death by his father Napoleon Budd, his mother, Audrey Budd, and his brothers and sister, Reggie, Ronald, Kevin, and Robin and his godson Dwayne Jamal Taylor and niece Tiffany Lomax. He is survived by his wife Roberta, his daughters Karyssa and Ronee, and his son Eric Smith.  Grandchildren: Olivia Gomes, Kahliah Smith, James Green and Heaven Lowery.  Nephews: Kevin Qualls, Reggie Perry, and Kareem Lomax, Niece: Shenelle Willis. Goddaughter: LaDawn Hicks. He will be loved and remembered by his extended family, church family, many friends and loved ones.
Visitation will be held at The Grace Church of All Nations,451 Washington Street, Dorchester, Saturday, November 11 from 10-11:30am. Funeral Service to begin at 11:30am in the church. Relatives and friends invited.