Joseph Bloom Jr.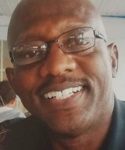 Joseph Bloom, Jr. of Brockton died November 9, 2017.  Father of Joseph Bloom, III of Brighton, Jaya Houston Ely of Topanga, CA, Katherine Bloom of Thailand, Laura Bloom of Westborough and Jordan Hudson of Medford. Devoted Brother of Joanne Bloom of Jamaica Plain and the late Robert, Willie and Johnnie Bloom.  Grandfather of Damon and Lola Ely and Arianna Bloom.  Joseph is also lovingly remembered by many longtime close friends.
Joseph (Joe) was born and raised in Georgia; as an early teen, he moved to Boston and lived with his older Sister, Joanne.
Joe was employed by the Gillette Company for many years, working as a health and beauty aids Sales Manager before retiring.
Additionally, Joe was a black belt in Okinowan Go-Ju-Ryu Karate, as well as an avid runner.  Joe won many awards for karate and martial arts and participated in a 1969 National Karate Championship in Boston. He was devoted to ensuring all age groups had the opportunity to embrace the benefits of karate, both physically and mentally, and as such taught at both the Boston Black Police Association and Hyde Park YMCA.
Joe will be missed by all who had the pleasure to have known and loved him.
Relatives and friends are respectfully invited to attend visiting hours on Wednesday November 15, 2017 12:00PM- 1:30PM in the Dolan Funeral Home, 1140 Washington Street, DORCHESTER LOWER MILLS.  A Service will follow at 1:30PM in the Dolan Funeral Home.  A private interment will be at a later date in Mount Hope Cemetery, Boston.
In lieu of flowers, donations in memory of Joseph may be made to the Prostate Cancer Foundation, 1250 4th Street, Santa Monica, CA, 90401.