James N. Doherty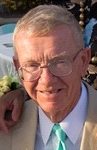 James Neil Doherty,  Attorney of Milton died November 13, 2017 surrounded by his family.
Beloved husband of Dorothy M. Doherty (Souther) of Milton.  Loving father of Barbara Gauld and her husband Ronald of Milton; James Doherty, Jr. and his wife Kelly of Atkinson, NH; Jennifer O'Toole and her husband Paul of Milton; Sean Doherty and his wife May of Charlotte, NC; Daniel Doherty and his wife Sara of Milton; and Julie Matthews and her husband Joseph of Milton. Cherished grandfather of RJ and Alex Gauld; Anna Doherty; Paul, Molly, Timmy, Seamus, and Jessie O'Toole; Merrill and Charlie Doherty; Owen Doherty; and Susie Matthews. Special uncle of Daniel and Casey Barron. Brother of Charles Doherty and his wife Dorothea Sparrow of Westwood. James is also survived by several nieces and nephews, and many close friends.  Predeceased by his parents Charles Doherty and Mary (Hennigan) Doherty of Somerville, and his sisters and brother, Helen McCartney, Mary Elizabeth Scott, and Thomas Doherty.
Known to his wife Dottie and their many friends as Jim, to his six children as Dad, to a niece and nephew he helped raise as Jimmy, and to his twelve grandchildren as Grampy, he passed away after valiantly battling a series of health complications. Disease and a recent fall damaged his mind and body, but couldn't steal away his smile.  A true gentleman, he was a gentle spirit with a kind word and deed for everyone he met.  That's how we'll remember him.  That's how his legions of family and friends from Somerville (where he grew up) to Milton (where he lived since 1969) and lots of points beyond will remember him. We'll celebrate his strong affinity for those–like him–who served in the military.  We'll delight in the affection he had for his church, St. Agatha in Milton, where he was a parishioner and Eucharistic Minister over the past 40 years.  We'll reflect with pride on the legal career he built over decades after graduating from Boston College and BC Law, including the practice he operated with close friends for many years in Cambridge and Medford.  He'd tell you he wasn't perfect — no one is.  But in the example he tried to set every day, he made the world a sunnier place and inspired others to do the same. We'll miss the corny jokes he'd deliver to his grandchildren, the spirited encouragement he'd give his children, the companionship–through thick and thin–he offered Dottie, and his humorous attempts to come to terms with modernity (he famously blurted "what's this hashtag?!" one day as his kids discussed Twitter). But above all, we'll miss that smile. Our world is a little dimmer today, but heaven just got a bit brighter. Thanks Jim/Dad/Grampy/Uncle Jim; we love you.
In lieu of flowers, donations can be made in his name to the Joslin Diabetes Center or the Fisher House Foundation. Private burial at Massachusetts National Cemetery, Bourne.
The Doherty family is planning a Memorial Mass and celebration of his life to be held on January 20, 2018.