Edna L. Roman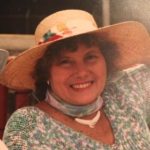 Edna (Lorey) Roman of Milton, passed away peacefully on Nov 13, 2017 surrounded by her family. Edna was born in Boston and grew up in Jamaica Plain.  She attended Girl's Latin School, and graduated from Jamaica Plain High School, and then worked for John Hancock.
Edna met J. Edward Roman at a dance on Oct. 23, 1936. It was love at first site for each of them, and after three years of courtship, they married on June 17, 1939. Every year for their 67 years of married life together, Ed and Edna would celebrate the date of their first encounter. The couple had five daughters and they enjoyed summers at their lake cottage in Halifax MA.  The Romans also had friends in Halifax England, and spent time with them in the Lake District. Edward passed away on Feb 6, 2006 at 90 years of age.
Exactly one year prior to Edna's passing, her only sibling, Kenneth Lorey, passed away at the age of 95 on Nov 13, 2016. Ken had fought in the Battle of the Bulge, and since his time in Belgium the family has maintained life time friendships in the area.
Edna was blessed with 11 grandchildren and 14 great-grandchildren, all of whom call her 'Bunny'.  One of her great-grandchildren had passed away at only 3 months of age. Always stunning, glamorous, and bright, she was beloved by all her children, grandchildren, great-grandchildren, and many friends.
Edna was a long time member of the Wollaston Garden Club. In addition to reading and knitting, she also enjoyed traveling and attending bible conferences.  She was a life time member of the First Baptist Church in Milton until its closing, and had since joined the East Congregational Church.
Edna (Lorey) Roman was the beloved wife of the late J. Edward Roman.  Devoted mother of Nancy Nelson of Hingham, M. Maria Roman of CA, Doris Lanza and her husband Joseph of NY, Donna Roman of Milton and Lorey Tam and her husband David of Hamilton. Sister of the late Kenneth Lorey. Also survived by 11 grandchildren and 14 great-grandchildren.
Funeral Service in the East Congregational Church, 610 Adams St., Milton, Monday, November 20,  at 11 o'clock. Visiting Hours in the Dolan & Chapman Funeral Home, 5 Canton Avenue, MILTON VILLAGE, Sunday 2-5 pm. Interment Milton Cemetery.
If desired contributions in Edna's name may be sent to the East Congregational Church.