Annabelle Aisha Madeleine Petion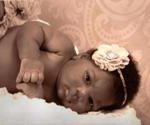 My sweet baby Annabelle, October 4th 2017 was the best day of my life. There aren't any word that could have describe my happiness, you were mommy's world. You were mommy's everything in life. My only reason to live. I have always call you my world that because you were that for mommy. I love you more than life itself. I currently want to switch places with you, my love, because mommy have lived already but want you to live a full life with tremendous love and happiness. I have prayed for a miracle and mommy still have faith for that miracle, but if you must go to the beyond and be happy mommy understands and only ask for a favor tell God to don't keep mommy away from you too long. Mommy wants to be around her world, her life and her happiness, that's what you were for mommy. I love you tremendously and mommy wants you to know that she has great pain in her heart. There's a hole in mommy's heart that is in the shape of you that no-one else in the world could ever fit, and believe mommy doesn't want anyone to fill that hole. I want you to stay in my heart until I meet with you again my sweet little angel, remember Annabelle Aisha Madeleine Petion, you will always and forever be "Mommy's World". I love you and please wait for mommy soon she will come to be with you again.
In the loving memory of my world Annabelle Aisha Madeleine Petion who was born on Wednesday, October 04, 2017 at 7:47 AM to which was mommy greatest day of her life and my sweet little peanut passed away on November 12, 2017 at 4:45 AM, that was the day that mommy world was shattered.
Beloved daughter of Natalie Michel and Kenol Petion.  Loving granddaughter of Guerda Michel and Roland Pierne, niece of Fabiola Michel, Jennifer G. Michel and cousin of Michael Matinez.
A visitation will be held at the Dolan Funeral Home, 1140 Washington Street, DORCHESTER LOWER MILLS, Thursday, November 16 from 5:00-6:00 PM.  A Funeral Service will follow at 6:00 PM.  Family and friends are invited.