William P. Lyons, Jr.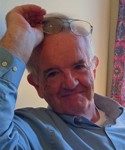 William P. Lyons Jr., formerly of Winthrop, died peacefully at home on October 1, 2017 after a brief illness.
A retired postal worker and lifelong Boston sports fan, Bill was known for his generous nature and sharp wit. He lamented the Red Sox' perennial lack of decent pitching, and didn't believe for a second that Tom Brady ever had anything to do with deflated footballs.
He enjoyed walks on Revere Beach, usually with a stop for a sandwich at Kelly's, and his perfect weekend included reading the Globe while having a cup of coffee and blueberry muffin from Dunkin' Donuts.
Brother Bill, as some of his family called him, was a proud member of the choir of St. John the Evangelist in Winthrop, where he shared a close friendship with the late Rose "Babe" Giangregorio.
He also spent many an hour engrossed in Legos, putting together puzzles and blowing bubbles with his grandchildren, the four loves of his life, who knew him as "Baba."
Bill was the son of the late William P. Lyons, Sr. and Zita (Cronin) Lyons. He was preceded in death by his wife Anne (McNealy) Lyons, and his sister Rosemary McCarthy of New Hampshire. He was the beloved father of Kim Lyons-Passafiume (Michael) of Pittsburgh, Mary White (Mark) of West Roxbury and Amy Lyons (Christopher Johnson) of Centreville, Va.; he was the brother of James Lyons of Winthrop and Robert Lyons of Marshfield. Bill also was the proud grandfather of Brian Martinez-Lyons (Sarah) of Cleveland, Dominic Passafiume of Pittsburgh and Hannah and Lilah White of West Roxbury, and dogfather to Augie.
Relatives and friends are invited to attend a visitation at the Dolan Funeral Home, 460 Granite Avenue, EAST MILTON SQUARE, Thursday, October 26 from 6 to 8 p.m. A Mass of Christian Burial will be celebrated in St. John the Evangelist Church, 320 Winthrop St., Winthrop on Friday, October 27 at 10 a.m., followed by interment at New Calvary Cemetery, 800 Harvard Street, Mattapan on Friday at 1:30 p.m.