Robert L. Hoy, Sr.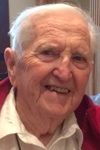 Bob Hoy was born and raised in Milton, the last of six children. He spent his summers in Hull where he became a salt-water enthusiast and champion sailor.  Like many men of his era, Bob joined the war effort after the bombing of Pearl Harbor. He enlisted in the Army Aircorps and served as an airplane mechanic in Virginia. He often bragged that no enemy planes made it past Virginia Beach on his watch.
After the War, Bob earned his degree at the College of the Holy Cross. It was during this period that he began his life-long love affair with Margaret "Maggie" Kimpton. His classmates remembered that he rarely spent a weekend at the Cross because his heart was waiting in Hingham.
Bob and Maggie married in 1950 and celebrated sixty-four anniversaries before she died in 2014. They raised six children on Hoy Terrace. To date, the family has added seventeen grandchildren and twenty-three great grandchildren. "Nana and Gramp" joked that whenever the phone rang somebody was calling to announce a pregnancy or birth. They both took great pleasure and pride with their growing family and were typically the first visitors at the maternity ward – sometimes arriving before the baby.
After graduating from Holy Cross, Bob was ready to pursue a career in engineering. He was already enrolled at Massachusetts Institute of Technology when a job opened up in his father's law firm. He worked his way through law school and earned his JD from Boston University in 1953.
When his father died, Bob set out on his own and opened a law office in Milton. He was a true general practitioner, and was often seen carrying a briefcase in one hand and a plunger in the other. Whatever the emergency, his clients knew they could count on him.
Bob was generous to his community. He was a town meeting member for years and served on the Warrant Committee, Planning Board, Parks Commission and Board of Cemetery Trustees. He was past president of the Kiwanis Club and was active member in his church.
In the last few years of his life, Bob's body slowed, but he maintained his independence, a sharp mind and a keen sense of humor. On warm summer afternoons, he still enjoyed the familiar view of Hull Bay from his comfortable porch chair.
Bob Hoy was a man of great Catholic faith, and he did not fear death. Indeed, he looked forward to reuniting with his beloved wife.
Bob will be missed by his children, Rob Jr., Suddi St. Ives, Cindi Vogel, Mike, Patti Reilly and Pete, their spouses, his grandchildren, his great-grandchildren, his nieces and nephews, and the countless friends he made over the course of an exceptional life of ninety-two years.
A Mass of Christian Burial will be celebrated in St. Elizabeth's Church, MILTON, Wednesday, October 4 at 10:00 AM. Visiting Hours in the Dolan Funeral Home, 460 Granite Ave., EAST MILTON SQUARE, Tuesday 4-8 PM. Interment Milton Cemetery.  In lieu of flowers donation in Bob's name may be sent to New England Province of Jesuits, P.O. Box 9199, Watertown, MA 02471. Late WW II US Army Veteran.