Ares L. Joseph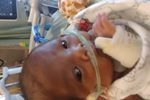 Ares Lucifer Joseph was born on June 23, 2017 at 4:57 am, Boston Medical Center, Boston. He was 1 lb 7 oz , and 12 inches long.  He passed away at Boston Children's Hospital Tuesday October 24, 2017.
He was a fighter from birth, and fought many battles and overcame them.  This last battle he fought and he fought hard, and unfortunately he could not overcome this one.
His memories will live on through his parents Lindel Joseph & Sabrina Nguyen, his grandparents,  Flavius Joseph, Rachel Joseph, Laura Huynh & Huong Vo,  his godparents Adam Dezso & Nancy Nguyen, his aunts, Marilyn Joseph, Anicia Joseph, his uncles, John Joseph, Julius Joseph, Francis Joseph, Flavius E. Joseph, Tony Nguyen, Michael Nguyen, Alex Nguyen, as well the rest of the familys and friends whom were blessed to have met him and know him.
From his dreamy eyes and stubby little nose. To his luscious lips and killer smile.  He was always a very happy child.  He never whined, always very content and would melt everyone's heart around him. Those are the impression he left everyone with and the lasting memories that all of us will remember.
Mommie and Daddy love you so much.  Our peanut, our little ugli, our precious little son.
A Memorial Visitation will be held in Dolan Funeral Home, 1140 Washington Street, DORCHESTER LOWER MILLS, Monday, October 30, from 5-7 PM.  Relatives and friends invited.