Anne Marie (Kelly) Volpe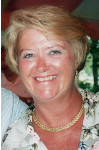 Anne M. (Kelly) Volpe, 68, of West Yarmouth and Medford, died Sunday, October 8,2017 after an extended illness. Anne was the wife of the late Lawrence R. Volpe. She was born in Quincy, MA, and was the daughter of the late Eugene and Evelyn Kelly. Anne was a graduate of Fontbonne Academy and Boston State College.
Anne worked as a preschool and elementary school teacher in Medford before her retirement to the Cape. She loved reading, gardening, and traveling.  She especially loved her time on the shores of West Yarmouth and Saint Thomas.
She leaves behind her sister Kathleen Kelly of Quincy, daughter Kelly Montana and her husband Karl of Marshfield, daughter Laura Boynton and her husband Jonathan of Milton, and grandchildren Nicole and Jake Montana, and Kaleigh and Allison Boynton.
A Mass of Christian Burial will be celebrated in Saint Agatha's Church, Adams St., Milton on Friday, October 13 at 10:30AM. Relatives and friends invited. Visiting hours at the Dolan Funeral Home, 460 Granite Ave., EAST MILTON SQUARE, Thursday, 4-8PM. Interment private.
In lieu of flowers, please consider a donation to the Lawrence R. Volpe Memorial Scholarship, c/o Laura Boynton, 6 Rustlewood Road, Milton, MA 02186.