Sara G. Corcoran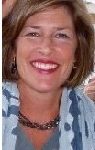 Corcoran, Sara G. (Grady) Corcoran, of Boston died surrounded by her loving family September 7, 2017.
Beloved wife of Leo J. Corcoran of Boston. Loving mother of Leo S. Corcoran and his wife Alison and Margaret E. Corcoran-Seitz and her husband Eric all of Boston. Cherished daughter of Paul G. and Lois Grady of West Harford, Connecticut. Sister of Paul G. Grady Jr., Brendan B. Grady, and Margaret S. McCrudden all of West Hartford, Connecticut.
Sara was born and raised  in West Hartford, Connecticut.  She graduated from Boston College with the class of 1982. While attending college, Sara met Leo and together they built the most wonderful life.
She woke everyday thrilled by the possibility of what a new day could bring. She was fearless and always said yes to life without a moment's hesitation. She lived her life by being true to herself and by giving herself to others; she nurtured and bettered all who came across her path. She lived and loved deeply and fiercely.
Relatives and friends are respectfully invited to attend a Mass of Christian burial on Wednesday September 13 at 11AM in Saint Ignatius Church, 28 Commonwealth Avenue, Chestnut Hill, MA 02467. Interment will be held at a later date.