Marie Charlotte Jean Conte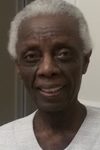 A loving mother and grandmother, Marie Charlotte Jean Conte was born in Port-au-Prince, Haiti to Maurice Jean Conte and Moramise Saint-Jean on April 13, 1932.  She was an active member of the Church of God in Dorchester, MA and served as a missionary to Haiti for many years. But her every day role was caretaker and homemaker for her beloved immediate and extended family, bringing joy to them in every way she could. Marie Charlotte died on September 12, 2017 in Boston after a battle with cancer.
Tante Charlotte as she was known to many was a wonderful, caring and giving person. She was very honest and lived her life in peace and love. She always tried to guide us towards being closer to the Lord and instilled this in her son Harry, her grandchildren, nieces and nephews as well as all of her great nieces and nephews.  Every Sunday, Tante Charlotte went to church with her sister Georgette known as Mommygette to us, wearing one of her beautiful hats and sharp suits. She took pride in how she presented herself and pride in how others perceived her. She was a woman of great morals and standards and she made that clear every time she spoke.  She was a woman well respected by her family, friends and community who would sacrifice her time to help those in need. With that in mind, she never sacrificed her time with the Lord. She was not just a mother to her son Harry, but a mother to all of us.  One fond memory is that every Saturday, she made sure to spend time with her son by cooking for him. It seemed like she saved all of the good cooking for Saturdays but she always made sure she left some for the rest of the family in the home. She was a wonderful cook.
She will be sorely missed as the mother and prayer warrior she represented in our family. We love you mommy, grandma, Tante Charlotte. We know you are reunited with your siblings and are dancing in heaven.
Her sisters Georgette Valentin and Louisena Denis and her brother Joseph Jean Conte precede Charlotte in death. Charlotte is survived by her son Harry and his wife Ludie Jean Conte of North Attleboro; her grandchildren Kristina and her husband Aaron Liburd and Harry Emmanuel Jean Conte Jr of New York. Her sister Marianne Desrosiers and her Husband Charlie Desrosiers of Atlanta, GA; her nieces and nephews Carlo and his wife Maymone Valentin, Chantal Valentin and her husband Stephen Howard, Eddy and his wife Marguerite Valentin, Garry and his wife Matani Valentin, Joel and his wife Linda Valentin, Nadege Valentin, Jean and his wife Mamoucheka Denis, Myrlene Desrosiers, Carole Michel, Jean Robert Leblanc and the late Yvon Desrosiers; her great-nieces and nephews Regine and her husband Noldy Innocent, Sabine, Martine, Marc-Eddy, Mathieu, Nicole, Dawson, Fabrice, Joey, Jamie, Samantha, Sebastien, Jason, Cassandra, Sasha, Nathalie, Erica, Rodney, Philip, Garry Junior, Schneider, Camille and Kamren.
Relatives and friends are invited to attend the visiting hours on Saturday, September 23, 2017 at the Dolan Funeral Home located at 1140 Washington St, Dorchester Lower Mills, MA 02124 from 9:00 a.m. to 10:00 a.m.  The funeral Services will be held in the Haitian Church of God Pentecostal, 839 Washington Street, Dorchester on Saturday, September 23, 2017 at 10:30 a.m. Memorials may be sent to Dolan Funeral Home. An interment will be held following the service at the Milton Cemetery, 211 Centre St., Milton, MA 02186.  Following the interment, family and friends will be greeted at the Generations Banquet Hall and Catering, 81 Memorial Drive, Avon, MA 02332.