Helen F. McDonald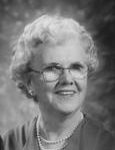 Helen F. (Fitzsimons) McDonald, of Milton, formerly of White Horse Beach and Dorchester, passed away on Monday September 11, 2017.
Born and raised in Dorchester, Helen became a resident of Plymouth for over 30 years, moved to Milton  in 2000, and finally to Marian Manor in  South Boston in 2013 where she resided until her death.
Helen started her career working for the Commonwealth of Massachusetts as a secretary for the Commissioner of Public Welfare. From there, she worked in many different positions, including Massachusetts Cooperative Bank and Emmanuel College.  In 1973, she became a member of the Mayflower Plymouth Chapter of the A.A.R.P. Helen served as Secretary for the Chapter for 2 years, she was Assistant State Director, State Director and finally serving on the National Board of Directors for A.A.R.P. from 1984 – 1990.
Helen also volunteered for many organizations including the Girl Scouts, American Red Cross, Jordan Hospital, The National Parent Aide Association, Member of the Plymouth Council on Aging, Retired Federal Employees, served on the Retired Persons Service Board of Directors.
She was the beloved wife of the late John A. McDonald. Sister of the late Sr. Mary Fitzsimons, F.S.P. and William J. Fitzsimons. Aunt of Mary Bono of East Falmouth, Kathleen Cullinan of North Andover, Ann Sullivan of Holliston, Joan Fitzsimons of Quincy, Maureen Dunn of Plymouth, Elizabeth Fitzsimons of North Weymouth, Harriet Swett, Joseph Swett and the late Virginia Colbert, all of Plymouth.
A Mass of Christian Burial will be celebrated in St. Bonaventure Church, 803 State Road, Plymouth, Thursday, September 14 at 11:00 AM. Visitation at the Church from 10 to 11 AM  Interment Manomet Cemetery.
In lieu of flowers, donations in Helen's memory may be sent to either AARP Foundation Hurricane Harvey Relief Fund, P.O. Box 93157, Long Beach, CA 90809-3157 or to Boston Catholic TV Center, 55 Chapel St., P.O. Box 9109, Newtonville, MA 02460.