Eileen M. O'Meara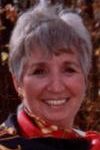 Miss Eileen Mary O'Meara, of Milton was born at home in Dorchester on September 26, 1929 to Patrick F.(PF) & Grace R. (Perry) O'Meara.  She lived her early years in Dorchester, before settling into Milton.  She was born the 5th of 6 children and her life, from the moment she was born, was filled with love, laughter, music, and friends.
Her professional life spanned several careers. Secretary, Broker, and Office Manager: Her favorite job was running Dr. Robert O'Brien's (her brother-in-law), medical office in Milton.
Eileen was a devout Catholic, a loyal American, and loving and generous person. She was an avid reader, an intrepid adventurer, and a fabulous Sister, Aunt, and Friend.  She loved to spend her days reading by the sea in Manomet, West Dennis, and Cape Elizabeth, ME.  Her happiest moments however were when she was at a family event surrounded by multiple generations of nieces, nephews, and cousins all talking at the same time. She said it was a family trait that we could talk and listen to multiple conversations simultaneously!
She has left us all with wonderful memories. She will be greatly missed by all who knew and loved her.
Loving sister to the late Patricia F. McLaughlin, Francis X. "Red" O'Meara, Margaret O'Brien, Robert O'Meara, and Ann R. O'Meara. Sister–in-Law of Helen O'Meara of Hingham. Also survived by many nieces, nephews, great nieces and great nephews.
A Mass of Christian Burial will be celebrated in Saint Agatha Church, Adams Street at Brook Road, Milton, Tuesday September 26 at 10:30 AM. Relatives and friends invited. Visiting hours at Dolan Funeral Home, 460 Granite Avenue, EAST MILTON SQUARE, Monday 5-8 PM. Interment at Milton Cemetery.