Michael Caleb McHugh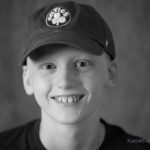 Michael Caleb McHugh, of Milton, an incredible son and loving brother, passed on August 5 as a result of Alveolar Rhabdomyosarcoma.
Michael was diagnosed only 15 months ago yet endured countless battles in an effort to live as much and as full a life as possible. Michael would not want to be remembered for the disease he endured but for more for his humor, his boundless compassion and great love of Boston sports. Michael attended Tucker Elementary School and was a proud High Honors student at Thayer Academy.
Father Michael Sr., originally from Scituate, MA, mother Kari (Bornhorst), originally from Acton, MA, and sister Brooke, welcome his friends and family to visiting hours at Dolan Funeral Home, 460 Granite Avenue, EAST MILTON SQUARE, Friday, August 11 from 4:00 – 8:00 pm. The funeral will be held at St. Mary's of the Hills Church, 29 Saint Mary's Road, Milton, Saturday, August 12 at 10:00 am. (Please park in the St. Mary of the Hills School parking lot, 250 Brook Road)
The family is asking that in lieu of flowers, donations go to support a fund Michael developed that will be used to bring joy to the nurses that care for cancer patients at Dana Farber and Children's Hospital. These nurses found innumerable ways to bring him and his family joy, clarity and love from the day he was diagnosed until the moment he passed. Donations can be made out to Dana Farber-nurses fund and sent to PO BOX 351, Milton, MA 02186 and the family will present them in Michael's name.