Maria "Voy" Pereira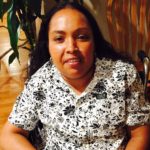 Our beloved Maria (Voy) F. DoCanto Pereira was called home on the evening of August 22, 2017. To know Voy was to love her. She was outgoing, strong, smart, and always extremely happy. She was known for her positive and vibrant personality. She often encouraged those around her to live each day like it's their last.
At a young age, she suffered a stroke but didn't let her health issues that followed deter her from living everyday life to the fullest. Voy enjoyed spending time with her family, especially the little ones. She loved to shop. From the latest iPhone gadgets and to the latest sneakers. Voy was very stylish and would never leave the house without accessories. Her favorite passed time was being outdoors. She would spend hours in the family's backyard, listening to music or catching up with friends and family. Even in the winter!
Voy was predeceased by her father, Joao Pereira. She leaves behind her mother, Maria Antonieta DoCanto Pereira, siblings Inacio Pereira, Maggie Pereira, Chantel Pereira, Eugedio Pereira, Lenine Pereira, Balbina Pereira and Joao Pereira, Jr. (Johnny) and five nephews Dominic, Daylen, Michael Mason and Malik. Voy will be deeply missed by many friends and family.
A Mass of Christian Burial will be celebrated in Saint Patrick's Church, intersection of Blue Hill Avenue and Dudley Street, Roxbury, Saturday August 26 at 10:00 AM. Relatives and friends invited. Visiting hours at Dolan Funeral Home, 1140 Washington Street, DORCHESTER LOWER MILLS, Friday 5-8 PM. Interment New Calvary Cemetery.