Justin A. Lloyd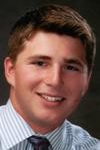 Justin A. Lloyd, of Milton, age 23, passed away peacefully on August 3, 2017 following a long battle with cancer.
Justin was the beloved son of Kenneth and Jeanne Lloyd of Milton. Brother of Jonathan Lloyd of Cambridge and Jared Lloyd of South Boston. His puppy RAI was named after the catchphrase motto that Justin lived each and every day by… RISE ABOVE IT.
Justin was raised and educated in Milton.  He graduated with high honors from Thayer Academy. Justin was an exceptional scholar-athlete who fulfilled his dream of playing college baseball at Union College in NY.  He eventually transferred to Boston College to be closer to home for treatment at MGH.  Even while on chemotherapy, he thrived as an Economics Major at B.C.  During his summers, Justin worked for Fallon Ambulance and John Hancock Financial Group.  Recently, he joined TEAM IMPACT; an organization dedicated to connecting children with life threatening illnesses to collegiate athletic programs around the country. Justin battled cancer with dignity and grace and was always respectful of others.  His infectious spirit touched everyone he met. He will be remembered for his quick whit, athleticism, leadership, competitive spirit, and his love for family and friends. He was an inspiration that taught all of us to appreciate life as it is, and every moment we have.
Family and friends will gather to celebrate Justin's life on Thursday, August 10, from 4 -8 p.m. in Dolan Funeral Home, 460 Granite Ave, EAST MILTON SQUARE.  A Mass of Christian Burial will be celebrated on Friday, August 11 at 10:30 a.m. in St Agatha Church, Adams Street at Brook Road, Milton.
Donations in Justin's memory may be made to LLOYDSTRONG REVOCABLE TRUST FUND.  The vision of this fund is to assist struggling families with similar medical needs not covered by insurance. Donations can be mailed to: Commonwealth Financial Group, c/o Melanie Kelly, Suite 800, 75-101 Federal Street, Boston, MA  02110.