Ithai Larsen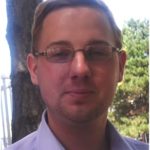 Ithai Larsen, 32, of Chelsea, died unexpectedly on August 3, 2017. He was born in Hyannis, Massachusetts and attended primary school in the Nauset Regional School System and Bnei Yehuda, Israel. Mr. Larsen majored in English Communications and minored in Business Administration at the Massachusetts College of Liberal Arts in North Adams. He completed his Masters Degree in Organizational Communication at SUNY Albany in 2008. While attending graduate school Mr. Larsen worked as a graduate intern for the Division of Library Development in the Library at the New York State House.
Mr. Larsen was employed by the MBTA for more than 7 years, principally as the Senior Coordinator for the Department of System Wide Accessibility. Mr. Larsen was committed to continuing the mission of the MBTA with a focus on improving accessibility. As part of his daily assignment he worked tirelessly and compassionately to implement the mandated accessibility requirements.
Both in his professional career and in his personal life, Ithai's calling was to gently serve those in need. He was loved by his family, friends and those whom he helped.
"Wherefore by their fruits ye shall know them"  Matthew 7:20.
Ithai is survived by his parents Geoffrey and Tineke, his brother Gershon and Natasha, and his brother Yesher and Rebecca. Funeral arrangements are being handled by the Dolan Funeral Home at 460 Granite Avenue in Milton. Calling hours will be Tuesday August 8th from 4 PM to 7 PM. The funeral will be private. In lieu of flowers, the family asks that you consider donations in memory of Ithai Larsen to the Dana-Farber Cancer Institute, P.O. Box 849168, Boston, MA 02284. Or gifts can be made via www.dana-farber.org/gift.