Gertha Lespinasse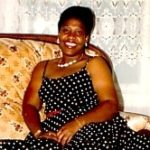 Gertha Lespinasse, of Miami, FL, passed away August 28, 2017 surrounded by her loving family.
Loving mother of Marlyne Ebanks, Roody Lespinasse, Jennifer Ebanks, Kenneth Mercure, and Tshanukah Matheus. She is also survived by a host of grandchildren.
Visiting hours at Dolan & Chapman Funeral Home, 5 Canton Avenue, MILTON VILLAGE, Friday from 4-8PM. The funeral service will be Saturday, September 2 at Boston Missionary Baptist Church, Dudley Street, Roxbury at 10AM. Interment at Oak Lawn Cemetery.