Norma Emmons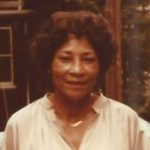 On Tuesday, July 4, 2017, God ordered a change of address for one of His angels, Norma McCalop-Emmons. She was born in Turkey, North Carolina on March 15, 1921 to the late Dudley McCalop and the late Essie Carlton-McCalop. Norma received her formal education from Douglass High School in Warsaw, NC and her Bachelors of Science from the State of Teachers College in Fayetteville, North Carolina. She then taught elementary school in Statesboro, Georgia.
Norma moved to Boston, Massachusetts where she met and married the late James Merritt in 1953. They were members of St. Cyprian Episcopal Church of Boston where they worshipped together. They were married until his death in 1964.
She met Joseph R. Emmons of Medford, Massachusetts and they married in 1970 and she moved to Medford to start a new life. They were married for 33 years. During their marriage, they traveled frequently to Halifax, Nova Scotia, Montreal, Seattle, Washington and may other beautiful places. They were famous for their Christmas Family Celebration, where they blended both their families. Joe's children and Norma's nieces. The family feasted on many homemade dishes including the best homemade jelly and they made sure Bryan had his lemon cake. Everyone awaiting to see what that year's Christmas Gifts would be for Joe and Norma. It was a beautiful time and the family enjoyed and could not wait until the next Christmas.
Norma worked in many capacities and was business woman at best. She was meticulous, astute, and very clever. She instilled those qualities in her nieces and nephews. She retired from Shawmut Bank of Boston after 30 years of service. She was also a life member of the NAACP and served as a secretary of the executive board of the Medford Branch.
Norma loved Young and the Restless and Bold and the Beautiful. All stopped when those shows were on. She then would discuss the cryptic outcomes of the "stories", with her niece Aisha. She was so hooked she had everyone else hooked. Although Norma didn't have children her love for dogs became a sincere passion. Sissy and Star were her treasures. After they passed away she became the care taker of Bo. Upon moving with her niece Vernette, she had the pleasure of having another dog in her life Bumpy Johnson, which she affectionately called Pee-Wee.
Norma was loved for being resourceful, nifty, elegant and classy. Whenever someone was ready to go out for the night, she wanted to see you before leaving the house. Although, nostalgic for her it was approval for everyone else. Norma became ill and was unable to take care of herself. Which her niece, Vernette made the decision that she would come and live with her. For the last 10 years, Vernette and Gale took care of her and Laretta flew from Turkey, NC during the summer break to help with her care as well. She was never alone and had family around her always.
Norma was preceded in death by her husband, Joseph R. Emmons, step-children, Joseph M. Emmons and Roberta A. Canada, her brother, Dudley Iredell McCalop, sister, Saint Clennie McCalop: nephews: Iredell Maurice McCalop and Anthony E. McCalop.
Norma is survived by her step-son, William "Billy" Emmons of Lithonia, GA; step-grandchildren: Stephanie, Stephen, Lynne, Joseph, Jr., James, Roberta, Leigh, Bryan, Darren, Davin, Demek and Tiffany. Nieces: Marian Vernette Banks of Mattapan, MA, Ora Gale (Jesse) Thompson of Randolph, MA and Roberta Laretta McCalop of Turkey, NC, Ocie M. Lee, of Columbus, Ohio and Doris Lee Butler (Filous)of Dayton, Ohio. One God daughter, Josephine Davis, of Boston, MA. Great nieces: Aisha Johnson of Mattapan, MA, Annie Vernette McCalop of Warsaw, NC and Jessica Thompson of Randolph, MA. Great-great nieces and nephews: Nasir Webster of Mattapan, MA, Kanisha Draughon, Jayden Blackmon and Janaysha Blackmon all of Warsaw, NC. Great-great-great nephew: Braylon Amir Webster.Visitation will be held on Thursday morning 10 – 11 AM followed by a Funeral Service in the Dolan Funeral Home, 1140 Washington St,. LOWER MILLS at 11AM. Relatives and friends invited. Interment at Mt. Hope Cemetery.