Marion Cecelia Walsh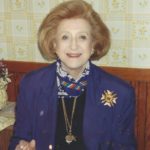 Miss Marion Cecilia Walsh passed away peacefully at her residence in Naples, Florida, Wednesday July 5, 2017.
She was born in Boston, MA, the only daughter of Patrick Joseph and Marie Connors Walsh. Besides her parents, she was predeceased by her brothers, Rev. Stephen M. Walsh, OFM of Boston and Robert E. Walsh and his wife, Katherine, of Oviedo, Florida. She is survived by her brother Richard J. Walsh and his wife, Roberta, also of Naples, two nieces and a nephew.
Marion enjoyed an active and distinguished career, both as a professional singer and later with L'Oreal USA as National Technical Director where she developed and conducted training programs for the sales force on various lines of hair color products. Based in New York City and travelling across the country and internationally, she approached her work with infectious, boundless energy and enthusiasm.   She was honored at L'Oreal with the company's Lifetime Achievement Award and was among the invitees representing L'Oreal at the Tony, Emmy and Oscar award ceremonies.   She was valued not only for her technical knowledge and expertise but also as an inspirational mentor to interns and those in their early careers with the industry.
Living in New York City for many years, Marion was a devotee of the arts, involved with the Martha Graham Dance Company and the Metropolitan Museum of Art, as well as a regular communicant of St. Patrick's Cathedral and the Church of Our Savior.
Anyone who met "Miss Marion" remembers her vibrant, charming personality and delightful sense of humor. She will be missed by all whose lives she touched. The family is especially grateful to the staffs at Terracina Grand and the Villa for their caregiving and attentiveness over the time of Marion's residence in Naples.
At her request, there will be a private religious service for immediate family prior to her interment in the Boston area.
Donations in her memory may be made to Avow Hospice, 1095 Whippoorwill Lane, Naples, FL 34105.