Cynthia Taylor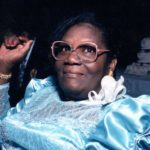 Her spirit was pure.  She gave an abundance of love.  Through us all, she shall live on.  She is our Queen, our main love, our Matriarch.  She is love, she is understanding, she is knowledge, she is our Mama.  We will all carry a piece of you in our hearts forever.
Cynthia Lenora Taylor blessed this world with her presence on March 26, 1932 in Port of Spain, Trinidad W.I.  Cynthia attended Saint Crispin's School in Woodbrook.  Through her journey, she married the love of her live Michael Taylor Sr. (deceased) in 1954 and formed what is now her legacy, Our Family.  Cynthia and Michael migrated to the United States from Trinidad in September 1970.
Cynthia worked for the Sheraton Hotel, Thompson Nursing Home, and retired from the Boston Public Schools Food and Nutritional Service Central Kitchen.  Food was her passion.  It was the way she showed her love.  To Mama, Food was love and she would cook for the entire neighborhood, literally.  No one could throw a cookout, or as we call them "fete", like the Taylors.  For sure you could never out eat or out drink them because they were stocked for the world.
Cynthia was born into the hands of Melvina Helen Marshall and Gordon Marshall.  After 18 years of mourning the death of the love of her live, her husband, Michael Taylor, she decided to join him along with our other ancestors to continue to watch over, guide, and protect our family.  Most know Cynthia as Mrs. Taylor, others as Ma T or Ma Taylor, but to our family she is our Mama.  The Queen, yes she is, the head of our castle.  Such a lady she was.  We will truly miss her.
Cynthia leaves to celebrate her live her siblings Maze Blackman, Janet Marshall, Melvina Brorman, and Gloria Robinson of Washington, DC, Evonne Marshall of Canada, and Maxfield Marshall of Trinidad W.I.  Her children Rudolph Marshall, Maureen Layne, Annmarie Taylor Alleyne, Muriel Kennedy, Robert Taylor, and Cynthia Marilyn Taylor Ryan of Boston, Massachusetts, Michael Taylor Jr. of Orlando, Florida, and Kelvin Taylor of Trinidad W.I.  Her in-laws Rudolph Layne, Cynthia Monica Marshall, Winston Kennedy, Don Ryan, Cheryl Taylor, Wade "M.O." Rodrigues, Kristal Calvey, and Anthony Alleyne Sr (deceased).
To carry on her legacy she also leaves behind her grandchildren and great grandchildren, Natasha (Jazmin, Jaden, Jayla), Anthony Jr. (Jonathon), Amanda (Amaiyah, Ashton), Diane "Peaches" (Muriel Daneijah, Jahdaya, Trinity), Andrea "Angie" (Nevaeh, Nykel), Antonette (Anai, Ayomi, Tonii, Nafari), Amalia (Anthony), Kiara (Kaleah, Reese, Ronald III), Keisha (Skylar), Jaheel (Cameron), Chantal (Chastity, Felicity), Keri, Robert, Aissa, Winston, Kristopher, Michael II, Marcus, and Marseille.
Mama was loved by many, too much to name but a host of nieces, nephews, cousins, family, and close friends.  She left the stamp on our hearts forever.  We will always love and remember you MAMA.
Visitation will be held Saturday, July 15 from 9-10AM followed by a Funeral Service at the Dolan & Chapman Funeral Home, 5 Canton Ave., MILTON VILLAGE. Interment at Oak Lawn Cemetery
We thank you all so much for your unwavering love and support in this difficult time.  We welcome you all back to 21 Caton Street, Mattapan, Massachusetts 02136 for the repast.