Timothy Francis Donovan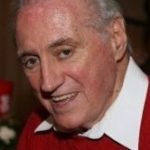 Timothy Francis Donovan, of Quincy, passed away peacefully at his home on July 6, 2017.
Tim grew up in East Boston. He was a graduate of Boston College High School, Class of 1951. He graduated Northeastern University after many years of evening classes while balancing family responsibility. He served four years as a sergeant in the US Army, being honorably discharged in 1962. Tim's dedicated working career consisted of nearly 40 years with the New England Telephone Company. He started in the lower ranks as a lineman and achieved several promotions, retiring as a second line regional manager, staff director.
Mr. Donovan served as Grand Knight to the West Quincy Knights of Columbus, Ave Maria Council in the 1970's. Tim was an avid storyteller. He enjoyed dog racing, travel and basking in the sun doing puzzles. Being with family was his top priority.
Son of the late Susan K. and Timothy F. Donovan of East Boston he is also predeceased by his older brother James H. Donovan of Melrose. Survived by his loving wife of nearly 60 years Patricia A. (Kirrane) and their five children, Timothy F. of Surfside Beach, SC, James and his wife Janine of Hanover, Mary Beth and her husband Daniel McNeil of Plymouth, Michael and Jane of Dedham and Kathleen Shanley of Quincy. Also survived by 15 grandchildren and 1 great-grandchild, many nieces, nephews, extended family and friends.
In celebration of Tim's life, visiting hours will be held at Dolan Funeral Home, 460 Granite Avenue, EAST MILTON SQUARE, Sunday July 9th from 4-8 pm. A Mass of Christian Burial will be celebrated in Saint Mary's Church, 95 Crescent Street, West Quincy, Monday July 10 at 10:00 AM. Relatives and friends invited. Interment Massachusetts National Cemetery, Bourne Monday 2:30 PM.
In lieu of flowers, donations can be made in the name of his wife, Patricia A. Donovan, to the Alzheimer's Foundation of America, 322 8th Ave. Fl.7, New York, NY 10001.