Mary Jane Dwyer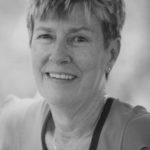 Mary Jane Dwyer, formerly of Milton, aged 73, died peacefully on June 14, 2017 at her home in Easton, MA, after a long illness. Mary Jane was born May 30, 1944 in Boston, daughter of the late Roger and Constance Dwyer.
Mary Jane was a graduate of Milton High School, Class of 1962.   A loyal and wonderfully supportive mother, she raised her children in Milton. In 1986, Mary Jane found her second calling when she went back to school at the Lemuel Shattuck School of Nursing and graduated as a Licensed Practical Nurse. She greatly enjoyed a more than 20 year career caring for the elderly in nursing homes in the Milton and Hyde Park areas.
After her retirement, she took much pleasure in spending time with her family, especially her grandchildren, seeing them on a daily basis after moving to Easton, where she was also kept company by her loving and loyal dog, "Trouble"
She is survived by her daughter Nancy Williams of Easton, daughter Colleen Jerome and her husband James of Easton, daughter Tracy Dehbi of Easton and son John Williams Jr. and his wife Barbara of Sharon. She is survived by her grandchildren Lindsay, Ryan and Brady Jerome, Justin and Caden Dehbi and preceded in passing by grandchild Destin Williams. She is survived by sister Judy Ebbs of Rockland, brother Roger and his wife Cathy of Brockton, sister Jean Enos and her husband Billy of Milton and sister Jody Shannon and her husband Jerry of Milton and lovingly remembered as "Aunty" to many nieces and nephews.
A Mass of Christian Burial will be celebrated in St. Mary of The Hills Church, Milton, Monday June 19 at 10:00 AM. Relatives and friends invited. Visiting hours at Dolan Funeral Home, 460 Granite Avenue, EAST MILTON SQUARE, Sunday 2 – 6 PM. Interment private.