Mildred "Millie" Horn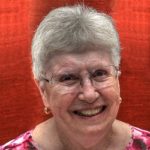 Mildred Mary "Millie" (Walker) Horn, of Dorchester died peacefully on April 9, 2017 after a long battle with pancreatic cancer. She was 77.  Born in Dorchester in 1939, Millie graduated from Dorchester High School in 1957.  She attended The Cambridge School of Business and worked for many years at The New England Mutual Life Insurance Co. in Boston. She raised her family in South Boston in the 1970s through the period of public school desegregation, insisting that all three of her boys attend school daily and not adhere to any organized boycotts. In retirement, Millie volunteered at The Epiphany School in Dorchester.
Millie is survived by her loving husband, Jim Horn, of 28 years. They were avid patrons of the arts and traveled extensively including South America, Europe and across North America. She is predeceased by her first husband, John DeCosta, who died in 1977.  She is survived by her three sons, Edward DeCosta, of Morgantown, West Virginia, James DeCosta, of Madison, CT, and Michael DeCosta, of Brookfield, CT, her beloved daughter-in laws, Linda, Tracy, and Dawn, 8 grandchildren, and a great grandson Vincent Anthony DeCosta born earlier this month.  She was also a surrogate mother to several nieces, nephews and neighborhood children whom she cared for and helped raise. She lived by the mantra, "it takes a village".  She was admired by countless longtime friends and many strangers who instantly became her friend when they met her.
A Memorial Mass will be celebrated Thursday, April 20, at Saint Mark's Church, 1725 Dorchester Avenue, Dorchester, at 10 o'clock. Donations can be made to The Epiphany School, 154 Centre  St. Dorchester, MA 02124.