Michael "Mike" F. Donlin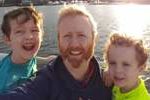 Michael "Mike" F. Donlin, 35, of Jamaica Plain formerly of Peabody, MA died tragically, Monday, April 3, 2017 from injuries sustained in a motor vehicle accident enroute to work. Mike was the loving husband and soul mate of Marisa (Pease) Donlin formerly of Carmel, New York.  Mike and Marisa have two sons, Liam Thomas age 7 and Noah Kai age 5.
Michael graduated from St. John's Preparatory School, Danvers, MA in 1999.  He attended Trinity College, University at Melbourne Business School in Australia for one year.  He received his Bachelor of Science degree in Management from the Carroll School of Management in 2003 at Boston College.  He went on to receive his Master of Science in Nursing in the field of Acute Care Nurse Practitioner from Massachusetts General Hospital Institute of Health in 2007.
Michael was a Nurse Practitioner at VA Boston Healthcare where he treated his patients with mindfulness and compassion – two traits that he excelled in and was committed to.  He had the ability to quickly, deeply, and honestly connect with patients, families, and team members.
Michael accomplished a lot during his short life and was awarded several honors.  Among them: 2012, Dept of Veterans Affairs, Systems Redesign Academy as Flow Improvement Expert; 2013, Excellence In Government Award from Federal Executive Board; 2014, Fellow in Hospital Medicine from Society of Hospital Medicine; 2014, Brigham and Women's Hospital Medicine Residency Nursing Award from Brigham and Women's Hospital; along with several published articles and grants.
Mike believed that life was for living and that things happen for a reason.  Among his many adventures – from as far as Australia and riding his bike across country, to as close as the park across the street playing tag with his boys, Mike saw the light and fun in actually living.  Many a nights you could find him playing his guitar or piano and then teaching Liam and Noah.
Through his personal work with Prita, his spiritual teacher, and her compassionate groups, Mike further deepened his faith in the human spirit and his love for himself and others. He would get so lit up witnessing the ah-ha moments of the people around him.   Mike lived by a simple yet powerful belief; "We know that a gentle love flows through everything.  Our purpose is to find it, feel it, create it and love it."  His cherished tattoo of the hawk on his back served as a reminder of his profound connection to the spirit world which guided his intuition, and led him to save his sister Katie from tragedy.
Mike had a profound ability to be in the present and to share that space with everyone he met.  Mike was the beacon of light to many in their darkest times and touched everyone with his open heart, clear understanding and spiritual connection.  He was a compassionate caregiver throughout his career in medicine and had willingness to provide a kind and gentle spirit to family and friends in need.  Mike had an amazing place in his heart for all.  His sense of adventure was contagious, his laugher left you wanting more, his hugs were simply the best and his love for his family was fierce.
In addition to his wife and children he is survived by his parents, John (JD) & Barbara Donlin of Peabody, MA.  His sister Kathleen (Donlin) Ray, her husband Matthew Ray, parents of nephews Brendan and Conor Ray, Duxbury, MA.  In-laws Gail S. Pease and Tom E. Pease of Carmel, NY and Marisa's aunt Debbie Reynolds of Bloomfield, CT.  Numerous aunts, uncles and cousins and countless friends and co-workers.
All are welcome to attend a celebration of Mike's life at theThe Larcom Performing Arts Theatre, 11 Wallis St., Beverly, MA on Sunday, April 30th at 1:00pm.   To support Marisa and their boys in this time of need and for the future financial necessities through life, contributions can be made to the "Michael Donlin Family Fund" c/o Eastern Bank, PO Box 1716, Duxbury, MA 02331.  Online donations can also be made to this fund through PayPal with link: paypal.me/michaeldonlinfund