Kenol Bernard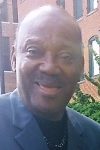 Born on May 15th, 1952, Kenol Bernard came into this world ready to make his mark. As a child, he was known as a playful mischievous prankster but very adored by his family and friends. In his early 20's, he become a first time father to a baby boy. While living in Haiti, Kenol developed his love for music and instruments, specifically the guitar. He was also known for his mastery in numbers which lead him to attend school for accounting for a year before moving to America.
Kenol came to Boston in the early 80s to seek out a prosperous life with his family.. He first spent many years working at Legal Sea Food  in their distribution area, where he met many life long friends and his ex-wife, Mercia Jean-Bernard, the mother of his 3 daughters. He later on began working as cab driver for the Independent Taxi Operators Association(ITOA). He worked as a cab driver  for over 20 years and learned the streets of Boston like the back of his hands.
Kenol was known for his hard working, generous nature and his die-hard loyalty as a Celtics Fan. He was also known for his impeccable style, self-proclaimed title of the families "Best Dressed". Towards the end of his life, If he wasn't watching his Celtics play, you could almost guarantee you'd find him with his pen, penny, and reading glasses engulfed in his scratch tickets.
He was the beloved  son of the late Philius and Marie Rose Celina( Napoleon) Bernard. Beloved father to his four children, Kenny Junior Bernard, Kencia Bernard, Kerley Bernard, and Dorika Bernard. Beloved grandfather to his four grandchildren, Kendrick Daniel Bernard, Kaidence Joy McManus, Kelina Dia Bernard and Karlens Kenol Bernard. Kenol is also survived by his brothers and Sisters, Philius Bernard Jr., Ouilmene Marlene Bernard, Marime Dickson, Elsie Bernard, Marie Chantal Bernard, Philippe Bernard and many nieces, nephews, grandnieces and grandnephews. Preceded in death by his brother, Pierre Bernard.