Virginia A. Flynn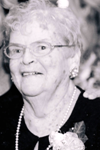 Virginia A. (Kiley) Flynn, of Quincy, formerly of Dorchester, died March 21, 2017.
Beloved wife of the late William A. Flynn. Loving mother of Michael Flynn and his wife Mary Beth of Dorchester, Mary Ellen Flynn of Quincy, Tom Flynn and his wife Dawn of Milton, John Flynn and his wife Nancy of Dedham, Jane McSweeney and her husband Stephen of Mansfield, Virginia Flynn of Milton and Elizabeth Duddy and her husband Thomas of Quincy. Sister of Patricia Casey of Quincy and the late Anne Joyce and Thomas Kiley. Cherished grandmother of Michael, Mary Kate and her husband Phil, Matthew, Meaghan and her husband John, Brendan, Bridget, Liam, Samantha, Ryan, Christopher, Grace, Brendan, Kiley, Mark, Andrew and Joseph.
Virginia was born and educated in Boston. She was an active member of Saint Gregory Church and Woman's Sodality. She enjoyed knitting and ceramics in her younger years. Most of all Virginia loved and cherished her family who were the cornerstone of her life. She will be missed by all who had the pleasure to have known her.
A Mass of Christian Burial will be celebrated in Saint Gregory Church, 2215 Dorchester Avenue, Saturday March 25 at 9:00 AM. Visiting hours at Dolan Funeral Home, 1140 Washington Street, DORCHESTER LOWER MILLS, Friday 4-8 PM. Interment Cedar Grove Cemetery, Dorchester.
Donations in memory of Virginia may be made to the American Diabetes Association, PO Box 15829, Arlington, VA 22215.