Patricia M. Schneider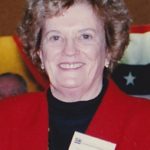 Patricia Mary (Sullivan) Schneider of Milton, Massachusetts passed away peacefully, surrounded by her family, Saturday March 11, 2017 at the age of 84.
She was born on May 18, 1932 to Richard J. Sullivan and Mary P. (Snow) Sullivan in Boston, Massachusetts. After graduating from the Tufts University and then Massachusetts Eye and Ear School of Orthoptics, she worked as an ophthalmology technician in New Haven, Connecticut where she met her future husband, Ronald Schneider. They were married on February 7, 1960 in St. Elizabeth's Church in Milton where they moved in 1966 and raised four children. Pat dedicated her life to her family, her friends and her community, serving on school building committees, the Parent-Teacher Association, and various other community organizations. A proud advocate of women's rights her whole life, she served as a member and President of the Milton League of Women Voters, working tirelessly on various campaigns for candidates and issues, such as the Equal Rights Amendment ratification campaign in the 1970s. Raising her children was of utmost importance to her, so much so that she worked the 11 pm to 7 am shift for over a decade as a switch board operator at Tufts New England Medical Center so that she could be there when her children got home from school. When they made it to high school, a lover of books, she opened and ran The Book Stop, a used book store, in North Quincy. She ended her working career in her late 70s as an Independent Title Examiner, working in the Middlesex County Registry of Deeds in Cambridge. She took an active interest in just about everything and everybody she came into contact with.
She is predeceased by her parents, her husband of 56 years, Ronald W. Schneider, Sr. of Milton, her brother Thomas P. Sullivan and her brother Richard J. Sullivan, Jr. She is survived by her four children, Gregory George of Plympton, Massachusetts and his wife Laura (Johnson), Carl Richard of Milton, Massachusetts, Ronald William, Jr. of Wells, Maine and his wife Cheryl Turner, Mary Patricia of Weymouth, Massachusetts and her partner Mary DiNatale. She is also survived by her four grandchildren, Kayla, Megan, Amanda and Nicole, who always provided light, energy and love to her life and her nieces and nephews.
Relatives and friends are respectfully invited to attend visiting hours Thursday 5-8PM at Dolan Funeral Home, 460 Granite Avenue, EAST MILTON SQUARE. A funeral service will be celebrated on Friday at 11:00AM in St. Michael Episcopal Church, 112 Randolph Avenue, Milton. Interment in Milton Cemetery, Milton.
In lieu of flowers, please donate to the American Syringomyelia & Chiari Alliance Project at asap.org.