Michell D. Webber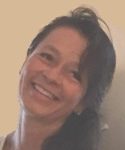 Michell D. Webber of P.I community, Quincy, Massachusetts passed on March 3, 2017 after a brief battle with cancer at the Beth Israel Deaconess Hospital in Boston. Born on November 8, 1959 she was the daughter of both the late Diane M. and John Webber. She is survived by her husband, William Bowen, her dog Zeta and her many friends and students.
Michell attended Ursuline Academy in Dedham, MA and taught figure skating for more than 35 years in Lake Placid, NY and in the Boston suburbs. She was a lifelong member of the Skating Club of Boston, the PSG Counsel and the USFSA Figure Skate and Skating Society. She was a competitive skater in her childhood, and was a triple gold medalist, a student under Gustave Lussi, Howard Nicholson and Carlo Fassi.  As a coach, many of her students went on to compete in national figure skating events. More recently, she was also actively involved with the Junior Bruins Program, teaching advanced skating skills to the next generation of hockey players.  Her students were her passion. She was an inspiration to all who knew her.
In the short time at the BIDMC, she touched many of the staff. During her time in the hospital, she never lost her sense of humor and woke up each day with a Michell smile we all knew and loved. Her family and friends are most appreciative of the amazing care and love shown by the BIDMC physicians, nurses, staff and religious support team.
Michell enjoyed living near the ocean, her beach and being a part of the P.I community. She was a lady of grace and elegance. She loved the finer things in life, but was also a very humble person.
Funeral service at Dolan Funeral Home 460 Granite Avenue, EAST MILTON SQUARE, Saturday March 11, 2017 at 9:30 AM. Relatives and friends are kindly invited to attend Michell's visiting hours at the funeral home on Friday from 4-7 PM. Internment will take place at Oak Grove Cemetery in Medford, MA.
In lieu of flowers memorial donations can be made to: https://www.gofundme.com/webberswonders01