Marguerite T. McCauley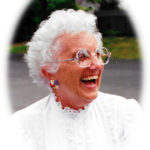 Marguerite T. McCauley, 90, of Norwell, formerly of Milton and Dorchester, Wednesday March 1, 2017.
Beloved daughter of the late John and Bridget (Monahan) McCauley.  Marguerite was predeceased by her siblings Rita, Eileen, Amelia, John, Catherine and Elizabeth McCauley.  She is survived by many nieces, nephews, grand nieces and nephews.
Born in Boston, she obtained her undergraduate and Master's degrees from Boston State College in 1947 and 1954.  Marguerite's 48-year career was devoted to working with children as an educator and principal in the Boston Public Schools – teacher at the Mather School; Assistant Principal at the Sumner and Brooks Schools.  In 1976, Marguerite was appointed as the Principal of the Kilmer School in West Roxbury where she remained until her retirement in 1995.  Her long career was recognized by the Massachusetts Senate and House of Representatives.
A Mass of Christian Burial will be celebrated in Saint Elizabeth's Church, 350 Reedsdale Road, Milton, Wednesday March 8 at 10:00 AM..  Relatives and friends kindly invited.  Visiting hours at Dolan Funeral Home, 460 Granite Avenue, EAST MILTON SQUARE,  Tuesday 5-8 PM.  Interment New Calvary Cemetery.
In lieu of flowers, donations may be made in her name to The Carmelites of Boston, 61 Mount Pleasant Ave, Roxbury, MA 02119.