Captain William R. Sheridan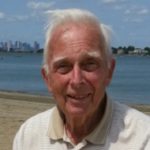 Captain William R. Sheridan USN (Ret.)  died March 6,  in Boston.
Bill was born in Newark,  NJ in 1928  and was raised in South Orange, NJ. He graduated from Seaton Hall Prep School of NJ  and Holy Cross College, Worcester, MA, ROTC  Class of1950 with a degree in physics.  He joined the Navy after graduation.  Bill's naval career was to span two wars; Korea and Vietnam, and continued  over 24 years with numerous duty stations and ships including the U.S.S. Long Beach and U.S.S. McDonnell.  His final tour of duty was serving as Commanding Officer  of the  nuclear powered guided missile cruiser, U.S.S.  Bainbridge.
During his Naval Career, Bill's education continued with his receiving a Master of Science in Engineering from the U.S. Naval Postgraduate School.  He was selected for the Surface Nuclear Power Program and attended the Advanced Nuclear Course at the U.S. Naval Submarine School.  Bill also attended the Naval War College and earned a Master of Science Degree in International Affairs from George Washington University.
Bill received numerous awards and commendations.  Among them a Bronze Star, Korean Presidential Unit Citation and a Naval Meritorious  Service Commendation.
In his post naval career era Bill worked at Stone & Webster Engineering of Boston eventually becoming Vice President and Director  of  Nuclear Design.  He also earned an MBA from Suffolk University in 1983. Leaving Stone & Webster in 1988,  he then worked at Bechtel Corp. until his final retirement in 1995.  Unable to remain completely retired, Bill volunteered his time giving back to young children in the Boston School System promoting math and science. He was also an active board member at Milton hospital, the American Red Cross as well as Wollaston Golf Club.
In Bills free time, you would find him at the piano, where  he would tickle the ivories on anything from classics to show tunes. He was an avid golfer always working on the right swing and back in the day he knew how to control the tennis court with his Wilson T- 2000.
Bill was the beloved husband of the late Elizabeth (Noonan) and Carol (Crowley) Sheridan. Devoted father of William R. Sheridan, Jr and his wife Sherrie  of Chelmsford, Mary Sheridan-Bushnell and her husband George  of Cohasset, John Sheridan and his wife Jacqueline of NH, Patricia Duxbury of Boston and the late Regina Hobbs. Brother of Joseph Sheridan of OR and the late Richard Sheridan, Mary Lois Hagedorn and Claire Lawrence. Also survived by 18 grandchildren and 5 great grandchildren.
A Mass of Christian Burial will be celebrated in St Gregory's Church, Dorchester, Thurs., March 9, at  10 o'clock. Visiting Hours in the Dolan Funeral Home, 1140 Washington St., DORCHESTER LOWER MILLS, Weds., 5-8pm.  Interment Milton Cemetery. If desired contributions in Bill's name may be sent to the Alzheimer's'  Association, 309 Waverly Oaks Rd., Waltham MA 02452.