Bishop George Johnson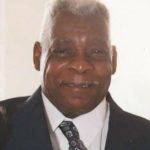 Bishop George Johnson, died on March 14, 2017. Bishop George was born to the late Pauline and Jim Johnson September 20, 1928 in Scotin, SC.
Bishop George served in the United States Army from September 1952 until Sept 1953. He was honorably  discharged as a PFC. The Veteran of the Korean War often known as the "Forgotten War"  was awarded the Purple Heart for wounds received in Battle, a Combat Infantry Badge as well as an Army Good Conduct  Medal, A Korean Service Medal with 2 Bronze Stars and a  United Nations Service Medal.
George was an outstanding man who loved his friends and family unconditionally.  He took pride in being a hands on and present parent. He enjoyed spending time with his beloved grandchildren and enjoyed teaching them how to "chef" it up in the kitchen. He loved to fish and watch martial arts films and wrestling.  He also preached the Word of God and loved Gospel tunes.
Bishop George was the beloved father of Brenda Johnson of Brockton, George Johnson, Jr. of Boston, Jacqueline Johnson of Brockton and Herbert Allen Johnson of Boston. and the late Solomen Johnson. Brother of Elizabeth Hicks of Boston. He also leaves numerous grandchildren and great grandchildren.
Graveside Service  will be conducted by Apostle Helen Watkins Skeete  at the Mass National VA Cemetery Bourne, Tuesday, March 28 at 11:15 am.