Aubrey Tuitt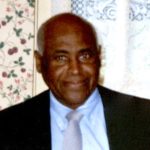 On March 1, 2017, after a brief illness, Aubrey Tuitt passed away in his sleep. Aubrey led by example in his personal and professional life.  He had a life well lived far beyond his dreams, and left us on his own terms. Always greeting the world with a quick gentle smile and a glint in his eyes, remarking "I feel fine."
Aubrey Tuitt was born in Plymouth, Montserrat BWI on May 7, 1925 to Joseph Tuitt (master tailor of uniforms for police, defense force) and Florence Eugenia Hubbard (Antigua ).  After an active childhood in Montserrat, Aubrey emigrated to New York City as a young man in 1947 to live with his aunt and uncle Edna and George Wade.  Aubrey and his brother Victor worked in the Wade's family stores, while Aubrey pursued post-secondary studies and became a certified Dental Technician.  Aubrey joined the Montserrat Society's New York cricket team, during one of their annual matches against the Boston Society's team he met and later married Ernestine O'Brien of Boston, Massachusetts in 1952.
He had a career spanning over fifty years in the tanneries of the vibrant America leather industry – first working for W. Milender and Sons of Boston at their tannery plants in Salem, MA and Omaha, NB for 25 years with Sumner Milender, rising to Hide Buyer and Vice President. Aubrey represented the company at the Tanners' Council of America as their first and only black member.  For the next 20 years he was Head Purchasing Agent at Howes Leather Company of Quincy (with tanneries in Pennsylvania and West Virginia) working with Joseph McHugh.  Over his career, Aubrey visited 48 states, 9 Canadian provinces, France, Italy, United Kingdom and Argentina sourcing hides and chemicals in order to provide a wide variety finished leather to makers from fashion and craft to shoe to furniture and automotive industries.
In retirement he became a snowbird wintering in Maui, Hawaii for many years enjoying the glories of nature and the unpredictable Pacific surf.  When he found the trip arduous he chose a new roost in Sapphire Bay, St. Thomas USVI.
A little about Aubrey Tuitt, the man. He was always calm, quiet, observant, gentle and thoughtful – a man of few words but they were always warm and insightful.  Aubrey was a power walker often walking 7 to 10 miles in a day. From his youth, he enjoyed everything water – diving, surfing, swimming, and sailing.
As a young man he sailed the entire Caribbean by schooner with childhood friend John Wade, and in later years he enjoyed sailing up and down the New England coast with his friend Leonard Lewis, on the Dutch Treat, through calm and stormy seas.
He was an early urban gardener, raising not only a wide variety of indoor and outdoor flowers and plants, but also growing his own fruits and vegetables for over 20 years. He was an excellent cook specializing in Caribbean dishes, and a baker of amazing cakes.  The highlight of his year was the annual Caribbean Festival parade when he welcomed friends and family to watch the festivities from his porch and feast on his culinary wonders.
He was predeceased by Wife Ernestine (O'Brien) Tuitt; Brothers Victor Tuitt, Arnold Tuitt, and Stuart Tuitt; and Sisters Alicia Bramble and Margaret (Maggie) Myler.
Visitation 10:30-11:30AM, Saturday March 11 followed by a Celebration of Life Service at the Dolan Funeral Home, 1140 Washington Street, DORCHESTER LOWER MILLS. Interment Forest Hills Cemetery.
In lieu of flowers, donations can be made in Aubrey's name to the Salvation Army 25 Shawmut Road, Canton, MA 02021.