Sammie Louis Alexander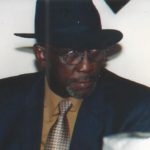 Sammie Louis Alexander went home to be with the Lord on Monday, the 13th of February in the year of 2017. Sammie was born November 23, 1939 in Atoka, Tennessee to the late Henry Alexander and Arlin Alexander.
Sammie came to Boston in 1967 to look for work and a future. Sammie was a Stewart with the Local 223 Construction and General Labor Union for 30 plus years . Sammie befriended Mayor Marty Walsh holding a long standing friendship with The Walsh Family. He held the title of being a Steward in his blood. Giving directions and orders and not settling for less as a leader. That role carried on the job and off the job as well.
Sammie was the evolution and expansion of his family. Taken on the role as a man, at an early age. He was the seed that blossom a tree of family and friends. Sammie, Sam, Sammie Louis Respect from anyone who had the pleasure of being in his presence.
Sammie was the 2nd eldest of his siblings who were preceded in death years prior. Mary Lou, Artis and Emma Jean.
Sammie leaves behind his loving wife of Doris Thomas Alexander for 14 years, and daughters Mary, Renee, son Jermaine, and Step- Children Manuel and Deirdre (Dee Dee) Thomas. Sammie leaves a host of Grandchildren and Great grands along with loving family and friends.
Our Heavenly Father has gathered his wings round his children to join him in his home. Rest in Peace Sam we love you. Visitation will be held on Friday February 17 at the Dolan Funeral Home, 1140 Washington St. LOWER MILLS from 10-11AM. The funeral service will begin at 11AM.