Harriet L. Hayes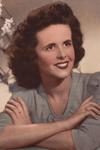 Harriet Louise Hayes of Milton, formerly of Brick, NJ and Williston Park, NY, passed away peacefully on February 14, 2017 at the age of 91 with her loving husband Tom and family at her side.
Born to Grace & Joseph Callahan in Brooklyn, NY, Harriet spent her early life in an Irish Catholic family home with her brother and two sisters. She married Thomas W. Hayes in 1947 and raised 6 children at their home in Williston Park, NY.
Harriet is survived by Tom, her devoted husband of 69 years, her children, Therese Wills and her husband, Rich of East Lyme, CT; Colleen Hession and her husband, Michael of Milton, MA; Peg Sheridan and her husband Joseph of Westfield, NJ; Thomas Hayes and his wife Janet of Manhasset, NY; and Janet Bongiorno and her husband Peter of Milton, MA. She was also the mother of the late Howard Hayes, and is survived by his wife, Cathy.
Harriet's greatest joys in life were her husband Tom, her children and grandchildren including: Erin and Meghan Hayes, Elizabeth, Richard, and Bryan Wills, Michael and Patrick Hession, Thomas, Kate and Colleen Sheridan, Lauren and Michael Hayes, Gabrielle, Isabelle and Peter Bongiorno. Great grandchildren include Madeline and Everett Chou.
Harriet had many friends as she was a genuine soul with great empathy to those in need. Her family thoroughly enjoyed her playful spirit.
Wake to be held at Dolan Funeral Home, 460 Granite Avenue, EAST MILTON SQUARE, Friday, February 17th from 3-7 pm. A celebratory Mass will be held at Saint Mary of the Hills Church, Milton Saturday, February 18th at 10:00 AM. Burial will be private.
In lieu of flowers, donations in her memory can be made to St Jude's Children's Research Hospital or Pat Roche Hospice Home.