Till Freeman, Jr.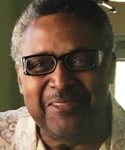 Till Freeman, Jr. was born in Buffalo, NY on November 19, 1948 to Irene Platt Levi and Till Freeman, Sr. He was raised by his maternal grandmother Josephine Platt. He is survived by his siblings Karla Levi and Kendall Levi.
Till's life was a life of service, first to his country, to his community and to his family. He served his country during the Vietnam War as a Sergeant in the United States Air Force and served with distinction. As a veteran, Till returned to the VA to work in the field of pathology until his retirement in 2002.
While in college, Till studied law and forensics. He was employed by the J.B. Johnson Funeral Home as a funeral director where his sensitivity to the needs of others was exemplary. He was also employed as a police officer for the City of Cambridge until his retirement. While employed as a DJ at WILD radio station, Till was actively involved with the daily operations of the station. His characteristic booming voice was widely recognizable to his fans as he played smooth R&B over the airwaves. His work in radio led to a long career as master of ceremonies for various events. Till was an avid fisherman and made frequent trips to the Cape to enjoy his favorite sport.
Till was loved and respected by his co-workers, his community and his family. He will be greatly missed by his wife: Deborah Crumes Freeman; his children: Edward Burnett, Jr., Carol Burnett, Till Freeman, III, Carnell Freeman and Candice Freeman from his first union with Lena Hall Freeman (deceased); his stepdaughters: Keisha Sistrunk and Nikea Boone. He will be remembered also by his daughter Shahonda Hall of Brockton, 18 grandchildren, 3 great grandchildren and 1 goddaughter. Also preceding him in death are his parents and beloved family members, Lucy Freeman (stepmother), Oliver Levi (stepfather), Olivia Levi (sister) and Gary Burnett (son).
Till's legacy was "larger than life". His journey to eternal rest is now complete. Rest now from your journey.
Funeral service Monday, January 23 at Carver Den, 80 Talbot Avenue, Dorchester at 9:00 AM. Relatives and friends invited. Visiting hours at Dolan Funeral Home, 1140 Washington Street, DORCHESTER LOWER MILLS Sunday 12:00-4:00 PM. Interment Massachusetts National Cemetery, Bourne.