Henrietta Montgomery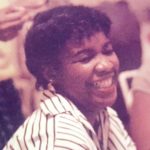 Henrietta Montgomery, aged 62, was welcomed into Heaven on December 29th 2016. Henrietta was born on July 16, 1954, in Moncks Corner, South Carolina the daughter of the late Henry Sheppard and Mary L Sheppard.
Henrietta adored her family. Whether it was all day shopping trip with her "ma-ma"(as she loved to call her), lunches with her brother Larry, laughing with her brother Elijah, going on adventures with her sister Emma, talking to her sister Kathy, or conversations about politics and talk radio with her recently departed sister Margaret, her family was her life. Her existence took on new meaning when her Grandchildren Kaylah and Isaiah were born. She spent much time making them laugh by constantly pretending she was a wrestler with Isaiah and enjoying funny conversations with Kaylah.
Henrietta was also very dedicated to the dental industry. Over the years, she gained great relationships with those in the profession she worked with and many patients absolutely adored her.
Henrietta is survived by her mother Mary Lou, brother Elijah, sister Emma, sister Kathleen, brother Larry, daughter Kellee, Granddaughter Kaylah, Grandson Isaiah, and a number of relatives and friends who will miss her tremendously.
Funeral Service Friday, January 20, in the Dolan Funeral Home, 1140 Washington St., DORCHESTER LOWER MILLS, at 11 o'clock.  Visitation 10 – 11 AM. Interment Cedar Grove Cemetery, Dorchester.